Dear Readers
They say women are the biggest gossips but the latest scandal doing the rounds, started in the London Clubs, Whites in particular.
Lord Glennvale was overheard telling all who would listen that my good friend, Lord C, one of London's latest rash of handsome rakes, was known to prefer to watch—watch other couples in the throes of passion that is.
It was said Lord C had interrupted the Duke of Sandringham with his latest mistress and had stayed to watch. Lord C's perversions seem to be tolerated by many of his peers, but most of society is aghast at his behavior.
I can assure you, upon my honor, that there is a good reason why Lord C acts in such a scandalous manner, however the secret is not mine to tell.
However, Lord C has recently been seen in the company of the Duke of Sandringham's widowed sister, and the likes of Lord Glennvale and his cronies are at a loss as to why Sandringham has not forbidden such a match. Does Lady P know more than she is telling? Or is there some reason why she has sought the handsome rake out?
The mystery deepens, and I can reveal that the lady bid against Lord C at the latest Sotheby auction. It was quite the battle…why did they both want this particular painting? Even I'm at a loss…
Yours truly, Lord Helmstone.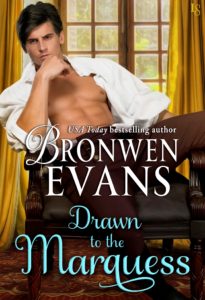 Drawn To The Marquess (Imperfect Lords #2)– August 2018 Pre-order
Destined to go blind, a rake sets his sights on the toast of society, lighting a fire of passion that scorches the night, in this captivating novel from USA Today bestselling author Bronwen Evans.
Stephen Hornsby, the Marquess of Clevedon, has one goal: to see every exquisite thing he can before he goes blind. His greatest joy, watching a woman shuddering in the throes of passion, will be gone. But before the darkness descends, he is determined to seduce a magnificent widow, Lady Penelope Fisherton. Unfortunately, his rakish reputation has preceded him; Lady Penelope spurns his advances. Being a man who relishes a challenge, however, her reluctance adds only luster to his desire for the last beautiful sight he'll ever see.
Considered the belle of London society, Lady Penelope was married to a scoundrel who cared for no one but himself. Now that she's free, she wants nothing to do with love, passion, or desire—emotions that abandoned her with a cruel husband. So why does her body react when Stephen smiles? As much as she'd like to avoid the rogue, her brother-in-law wants her fortune, and he'll kill to get it. Stephen is willing to help, but he'll take only one thing in return: Her. In his bed.
 Excerpt:
 A bilious sensation churned in Penelope's stomach. She'd learned his lordship wanted a painting coming up for sale in this auction. She had to buy the painting he wanted or else she would have nothing to barter with.
Unfortunately, Lord Clevedon was extremely wealthy. He was a man who would not need money, so why else would he help her? The painting was the key. 
She would win it.
She'd brought six-hundred pounds with her. More than enough for a painting valued at only one-hundred pounds. She hugged her reticule tightly. Being the Duke of Sandringham's sister would help if she needed credit, but paying too much for a landscape from a relatively unknown painter, would arouse curiosity. As would buying a painting Lord Clevedon wanted. The last thing she needed right now was the gossips announcing to everyone that she was in town and engaging in a bidding war with the Marquess of Clevedon.
Just then Lady Charlotte retook her seat. Her friend was there for morale support. It was Charlotte who, because she always came to town for the season when Penelope didn't, had ascertained the identity of Clevedon's current mistress and allowed them to learn as much as possible about the rake. Luckily for them Lord Clevedon had recently ended his liaison with Lady Diana and she was so heartbroken that she simply wanted to talk about the man all day. That is how Penelope learned about his obsession with the Wilson landscape.
"I see Clevedon's here. I perfectly understand how Lady Diana ended up in the man's bed. I must admit I'm very tempted myself." At Penelope's alarmed look at her widowed friend, Charlotte added, "Of course not until he has helped you."
"You may play with him all you like as soon as I'm finished with him."
Penelope saw Charlotte take a second look. "I shall certainly look forward to that." She giggled. "And not simply because with his help you'll be safe. By the way, no woman is safe with that man. He'd tempt a nun."
"Stop looking at him. I don't want to be noticed."
"When will you learn darling, that a little flirtation gets widowed women like us almost anything we want. You could have him twisted round your little finger with a smile."
Penelope pinched the bridge of her nose and wished she were at home as a headache began to pound behind her eyes. 
"If this plan doesn't work," her friend continued, "then you could always offer yourself."
Her head jerked up and her jaw tightened. "No. I will have to find another way. I will never allow a man power over me again."
"Oh, darling," Charlotte turned to stare at Lord Clevedon once more. "I suspect you'll actually enjoy his bed. But if you're that certain then there is always your brother.
He would help surely?"
She shook her head until her bonnet almost dislodged. She had her reasons for wanting Lord Clevedon. To pacify her friend she uttered, "If my brother gets involved…Sandringham would think he could control me too. I want to live my life, my way. No men commanding me."
Charlotte sighed. "Then you best hope this man can save you, painting or no painting. With his reluctance for anything more permanent than a couple of nights of pleasure from his lovers, even if he does request you in his bed, it won't likely be for long."
That did not make the idea of intimacies with the Marquess of Clevedon any more appealing.
 Pre-order links: Drawn to the Marquess
Amazon        https://amzn.to/2HJbDGg
iBooks           https://apple.co/2raPFF7
Nook              http://bit.ly/2HFlBN2
Kobo              http://bit.ly/2I3QDNG
Google Play   http://bit.ly/2JGtb6r
About the Author
USA Today bestselling author, Bronwen Evans grew up loving books. She writes both historical and contemporary sexy romances for the modern woman who likes intelligent, spirited heroines, and compassionate alpha heroes.Evans is a three-time winner of the RomCon Readers' Crown and has been nominated for an RT Reviewers' Choice Award. She lives in Hawkes Bay, New Zealand with her dogs Brandy and Duke.
You can keep up with Bronwen's news by visiting her website
and get a FREE book by signing up to her newsletter
http://bit.ly/2dWr4gb
Or Facebook: https://www.facebook.com/bronwenevansauthor
Or Twitter: https://twitter.com/bronwenevans_NZ