Such goings-on in the manor of Lord and Lady M–!
I had it from Lady M– herself!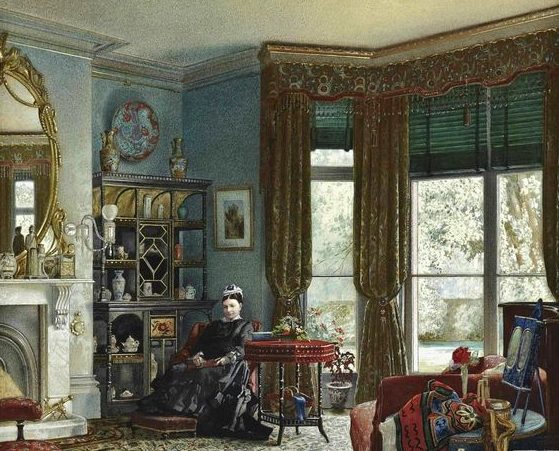 A faint rapping came upon the door. The soft voice of Emma, the parlour maid, followed. "My Lady?"
"Enter," I called.
Emma entered and curtsied to me. "Pardon me, My Lady, but the young woman is here about the position. Would you like to see her in the morning room?"
"Yes, thank you. I'll be there presently." With a sigh, I stood from my seat at the desk and stretched, glancing around my bedroom with a wince. Dresses, chemises, ribbons seemed to have strewn themselves over every available surface. I was sorry for Hannah, my maid, but she truly was not well, and the trip away with her daughter would do her the world of good. I desperately needed a lady's maid.
Never mind, perhaps this one will be suitable.
I straightened my bodice and patted my hair back into position. Earlier this morning, Emma had tried her best with my coiffure, but she had never been trained as a lady's maid.
C'est la vie.
My husband Lord M—'s ancestors frowned down from their portraits at the picture I must make with my less than salubrious attire, but I was, indeed, trying to remedy that situation this morning.
Emma stood beside the closed door to the morning room, curtsied and opened it. I entered, and the portal clicked closed behind me.
The girl, dressed in a tidy shirt and skirt, stood beside the fire in the grate, her pelisse over her arm. She curtsied, then looked directly at me, which I found refreshing.
"Good morning, and you would be Rachael," I said, as I seated myself in one of the comfortable French chairs.
"Yes, My Lady. Good morning to you. Thank you for seeing me today."
"Mmm. You understand I seek a lady's maid. Have you a character?"
She handed over the single sheet of paper, folded and sealed. I glanced at the seal. Sutherland, no less.
"And what was your position at Sutherland's?"
"If it pleases you, My Lady, I was a parlour maid there, but me mum trained me to be a lady's maid since I was young." She dropped her eyes to her wool-lined pelisse and the fingers of one hand crushed her carefully pleated skirt as she stood waiting for my next question.
"And you do not wish to continue as a parlour maid?"
She swallowed hard and looked back at me. "No, if it pleases you. I wish to better myself, to honour the memory of my mother."
"You're well-spoken. Your mother's doing?"
She nodded. "Yes, My Lady."
"And why do you wish to leave the employ of the Sutherlands?"
She took a deep breath and tightened her jaw. She finally answered. "Do you wish to hear the acceptable answer to that question or the truth?"
I smiled at her. The girl had gumption. "I appreciate being given the choice," I said, with a wry grin. "The truth, please. Always."
"It's to be the truth, then." She tightened her jaw for a moment. "I'd aspired to the position of lady's maid there, but one young Master Sutherland… he was a bit free with his hands on more than one occasion, and… well, luckily, I was blessed to be holding a hot warming pan in mine, and… no one was injured, but the noise was tremendous." Her lips twitched, but she kept a straight face. "Several other servants rushed to the room. I escaped and stayed as far away as possible from the young master. Fortunately, or unfortunately," the girl looked down at me with a grimace, "on the same day, a young girl from the estate, Sofia, came into service as a tweenie." She looked at me again, her brow wrinkled.
"Go on, please," I said.
"Not only has her whole family been sent out to the coast in the Clearances, but Sofia was waiting for her young Robert, the son of the old Tacksman, and the love of her life, to return from his military service, but, well, things have gone badly for the young miss. Very badly. I know it is just a matter of time before…. well, before she is dismissed… and then his attentions could return to me. I'm a good girl and don't want to go that way, if it pleases you, My Lady."
I frowned at the character in my hands, as yet unopened.
Was there any point opening it?
Author's note:
For those of you who have read the first book in The Long Trails series, A Long Trail Rolling, this is the first of Scotty's stories. As you may remember, Scotty is the trading post proprietor in A Long Trail Rolling, my award winning debut novel. Scotty's real name is Robert, not Scotty, but you'll have to read the as-yet unwritten books to find out the reasons he changed his name!
I invite you to wait to hear the rest of Scotty and Sophia's story in the boxed set by the Bluestocking Belles, coming later this year!
Meanwhile, check out my other books on my website!
Thanks so much for coming by today!
xx
Lizzi Tremayne
About Lizzi
Lizzi is one of the newest Bluestocking Belles!
Lizzi grew up riding wild in the Santa Cruz Mountain redwoods, became an equine veterinarian at UC Davis School of Veterinary Medicine and practiced in the Gold and Pony Express Country of California before emigrating to New Zealand.
Busy raising two boys, farming, and running her own equine veterinary practice, she never thought she'd sit down long enough to write more than an article. A serious injury, however, changed all that, and planted her in one place long enough to jump-start her new career as an author!
With Lizzi's debut historical romance, A Long Trail Rolling, she was: Finalist 2013 RWNZ Great Beginnings; Winner 2014 RWNZ Pacific Hearts Award for the best unpublished full manuscript; Winner 2015 RWNZ Koru Award for Best First Novel and third in the 2015 RWNZ Koru Long Novel section; and Finalist, 2015 Best Indie Book Award. Her newest novels and novellas, all released in 2017, are currently entered in more contests, and she's working on her next novel!
When she's not writing, she's swinging a rapier or shooting a bow in medieval garb, riding or driving a carriage, playing in the garden on her hobby farm, singing, cooking, practicing as an equine veterinarian or teaching high school science. She is multiply published and awarded in special interest magazines and veterinary periodicals.
Lizzi is new to the Belles, but she's loving the friendships she's already developing with the rest of the ladies. She adores how they're so progressive, organized, and fun. Best of all, they are all willing to put themselves out there, together, to achieve more, create more, than would be possible going it alone.
Lizzi loves to connect with her readers!
You can learn more about Lizzi and her books here or on these social media sites:
Subscribe to Lizzi's Newsletter (with a free gift!)
Sign Me Up!  
Sign up for Lizzi's newsletter here, with a free gift!