Dear Editor Clemmens,
Special from the States. Let me whisper from the near future, some news from across the pond. There is a girl, I have heard, who though plain of face and masculine in stance, is called America's Sweetheart. Can you imagine?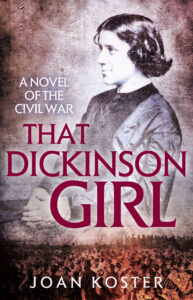 And for what? Because for a little thing of eighteen, she has a voice that carries deep into your heart, or your gut, if you are one to find her stance on slavery and the war unappealing.
Her name is Anna Elizabeth Dickinson, and when she shakes her curlyhead, men do the most amazing things. A protégé of William Lloyd Garrison and Frederick Douglas, she has invigorated the Northern cause with her sappy speeches about dying soldier boys. Why, believe it or not, the Republican party has hired her to campaign for their candidates in the midterms. 
Imagine such arrogance for her to accept such a task when she does not have the right to vote herself. But she has. 
Of course, those wily men have sent her into the worst of those Copperhead lairs. Places they have no wish to go. And for good reason. Why, not two days ago, she was attacked and some of her curls clipped off by an unruly crowd of coalminers who have no use for this War between the States and forced military service.
I must say, I fear she will be running into difficulty with the woman's righters if she continues on this path. But for now, she has caught the eye of our dear Susan B. Anthony, whose ardor for a young girl, well on her way to becoming the richest woman in America, will excuse the up-and-coming orator much. 
Though I have the feeling that a blow up is coming from another quarter. That thief in hiding, Julia Pennington, whom Miss Dickinson has taken under her wing, is sure to object to sharing her affections with the grand dame of suffrage.
And then, I too, may have some plans of my own for the young ladies—ones that will see me well-heeled for the rest of my days. And I want you to know that I am not the villain these girls make me out to be. Just doing my job as an investigative reporter.
~Floyd Burns, Reporter for The World
That Dickinson Girl: A Novel of the Civil War
By Joan Koster
BLURB
She's going to be the greatest orator of the Civil War!
Eighteen-year-old Anna Dickinson is nothing like the women around her, and she knows it. Gifted with a powerful voice, a razor-sharp wit, and unbounded energy, the diminutive curlyhead sets out to surpass the men of her day as she rails against slavery and pushes for women's rights. Only two things can bring her downfall—the entangling love she has for her devoted companion, Julia, and an assassin's bullet. 
Forced to accompany the fiery young orator on her speaking tour of New England, Julia Pennington fights her growing attraction to the ever more popular celebrity. When a traitor sets out to assassinate Anna, Julia must risk her life to save her.
Loosely based on the life of forgotten orator, feminist, and fighter for justice, Anna Dickinson, That Dickinson Girl is the story of one woman's rise to fame and fortune at the expense of love during the political and social turmoil of the American Civil War.
Available from: 
AMAZON  https://www.amazon.com/dp/B0BKT7DJQ5
B&N  https://www.barnesandnoble.com/w/that-dickinson-girl-joan-koster/1142596073 
KOBO  https://www.kobo.com/us/en/ebook/that-dickinson-girl
BIO of the Author
When she is not writing in her studio by the sea, Joan Koster lives an 1860s farmhouse stacked to the ceiling with books. In a life full of adventures, she has scaled mountains, chased sheep, and been abandoned on an island for longer than she wants to remember.
An ethnographer, educator, and award-winning author who loves mentoring writers, Joan blends her love of history, and romance into historical novels about women who shouldn't be forgotten and into romantic thrillers under the pen name, Zara West. She is the author of the award-winning romantic suspense series The Skin Quartet and the top-selling Write for Success series.
Joan blogs at JoanKoster.com, Women Words and Wisdom, American Civil War Voice, Zara West Romance, and Zara West's Journal and teaches numerous online writing courses. 
AMAZON AUTHOR https://amazon.com/author/joan-koster
BOOKBUB https://www.bookbub.com/profile/joan-bouza-koster 
Goodreads https://www.goodreads.com/author/show/3989103.Joan_Bouza_Koster 
Facebook https://facebook.com/joankosterauthor/ 
Twitter https://twitter.com/womenwewrite 
Pinterest https://pinterest.com/joankosterauthor 
Instagram https://instagram.com/joankosterauthor