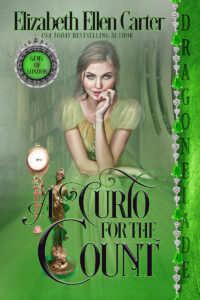 There's been scandalous talk in some corners of the Bon Ton regarding the company kept by the eligible bachelor, Armand Danger, Comte de Ytres.
Rumour has it that he was spotted at White's seeking out the company of Lord Kingston Prendegast. Now your correspondent has it on good authority that the only reason why one seeks out the man willingly is to seek an invitations to one of his parties.
Few details are known about what goes on inside these bacchanals, as both guests and servants are sworn to secrecy suffice to say that the finest of spirits (and the finest of the lightskirts) are to be found.
We are curious to know what the good count is up to given his predeliction for attending auction houses of late and being seen in the company of one Miss Jade Bridges, sister of the current proprietor of Bridges & Sons.
To find his future, he must own his past…
An excerpt from A Curio For The Count:
Lord Prendegast was easy to spot.
His costume hinted at a Tudor style – a close-fitting doublet in red satin edged in black which featured mameluke sleeves of red satin slashed with black. His hose was the same shade of scarlet. His shoes were red leather held by gold buckles and black bows, while gold rings and a striking collar made of large square links sat around his shoulders and neck.
Armand imagined this would be how a libertine Sir Francis Drake might dress. But who was he representing?
Mephistopheles?
It seemed appropriate.
Prendegast headed his way. Armand acknowledged him with a nod, but not his name.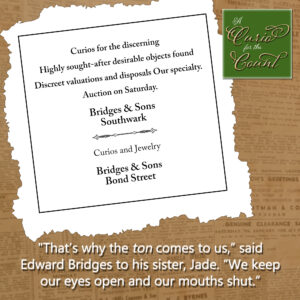 His host clasped him by the shoulders. "Come now, do you see nothing to your liking?"
Armand forced a laugh. "I see plenty – too much to take in all at once."
"Then greed is not your deadly sin. Very wise of you. The virtuous say to delay gratification is to make the conquest more satisfying. Perhaps there is something to it, perhaps not. Every taste is catered for here. You must be one of my first-time guests."
He nodded over to a clutch of colorfully dressed prostitutes.
"Nothing is off-limits to my guests. If they do not whet your appetite, you may wish to sample the serving wenches as well as the food."
He watched as Armand took it all in – the spectacle, the displays of flesh. More welcome than any of that was the smell of freshly roasted meat on a spit.
Prendegast noticed his interest.
"Lust and gluttony can be a potent combination. Enjoy."
Armand bowed, took another sip from his ale, and put a lightness in his step to stop himself from looking entirely sober and used the opportunity to wander around the gardens.
There were more here than just the statue of Athena. There were at least a dozen magnificent life-sized figures from the pantheon of Greek deity. Armand had no idea who the sculptor was, but he could appreciate the workmanship. It was tempting to run his hands along the shapely calf of Aphrodite, so he did and ignored any strange glances that might have been directed his way.
Why not? Nothing was off-limits.
The anonymous sculptor was a master of his craft. Armand understood how Prometheus thought, his desire to create a beautiful woman – his perfect woman captured in marble and yet brought to life.
Armand allowed himself to feel a measure of hope for his mission.
Given the sculptures in the grounds, perhaps it wasn't outside the realm of possibility that the Thalatte clock was in this building after all.
A CURIO FOR THE COUNT (BOOK TWO, THE GEMS OF LONDON)
Raised as an Englishman, Armand Danger, Comte de Ytres, is troubled by a dream from his childhood that leaves him speculating on his French past.
He is convinced an elaborate clock belonging to his late father, executed in the French Revolution, holds the answers he seeks.
Miss Jade Bridges works as a valuer in her family's London antiques shop and auction house. One day she receives mysterious letter from an anonymous client willing to pay any price for a very specific statue clock.
While in pursuit of the clock, Jade and Armand meet and there's immediate attraction. But how can it amount to anything when they are rivals for the very same object?
As the couple grow closer and attraction deepens, they agree to join forces to find the timepiece together.
Then an antiques dealer is killed. It appears someone else is willing to extract a fatal price to possess the clock for themselves.
What is it about this curio for the count that someone is willing to commit murder for it?
About Elizabeth Ellen Carter
Elizabeth Ellen Carter is a USA Today best selling author who writes richly detailed historical romantic adventures that have been praised for their strong characters and 'edge-of-seat intrigue'. Her eleventh full length title, Deceiving The Duke, will be released early in 2022 by Dragonblade Publishing.
A former newspaper journalist, Elizabeth ran an award-winning PR agency for 12 years. She lives in Queensland, Australia with her amazing husband and two adorable and mischievous cats. In addition to writing books, Elizabeth produces a online reader magazine called Love's Great Adventure.
Follow Elizabeth
Amazon: https://www.amazon.com/stores/page/6CCBA860-8532-439A-8E16-6A43F47D0C18
Facebook: https://www.facebook.com/ElizabethEllenCarter/
Instagram: https://www.instagram.com/elizabeth_ellen_carter
Website: https://www.elizabethellencarter.com