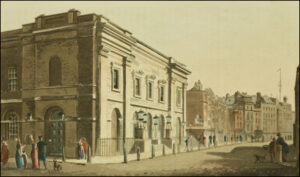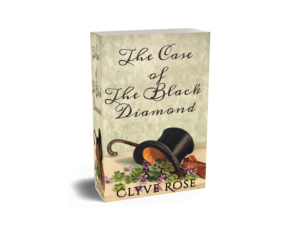 A certain lonely lord was seen leaving Drury Lane early – entirely missing the final act of Miss Ryan's divine Duchess of Malfi. He's seen her play before, no doubt. It's said he's present in his brother's box for every show so what dreadful occurrence might interrupt such dedication? The gentleman in question is a known connoisseur of theatre – and actresses. He left early, stepped into a hack with a footman-type, and wasn't seen again that evening. One can only pity the actress concerned – because rumour has it that something scandalous occurred last night at Carlton House…
Whatever has happened, the incident appears serious. The Prime Minister could not be reached this morning. It's said he's unwell, though lights burned late in Westminster last night. The matter is top secret, but it's certain at least one known rake was seen leaving the Regent's private rooms at an unearthly hour – and the Prime Minister's private secretary was spotted using the tradesman's entrance twice. One doesn't like to spread gossip regarding the higher echelons of government, but one can hardly help it in this case. Only one other thing seems certain – this secret incident doesn't seem to involve any ladies, which is both a comfort to society, and a disappointment to this writer. If all that's at risk is the reputation of a certain London actress, our debutantes may sleep soundly in Mayfair.
About the Book: The Case of the Black Diamond (Part I)
AVAILABLE ON LIMITED RELEASE:  https://amzn.to/3AU941L
The Case of the Black Diamond Part I
Nicknamed 'the lonely lord', Alexander Lindsey has spent a decade spying for the King and believes himself immune to surprises – until he meets Miss Ryan. Claire Ryan doesn't swoon, and doesn't blush – but when the Regent's jewel is stolen, Lord Lindsey turns up at The Soho Club, asking questions. Soon, Claire and Alexander are investigating each other.
This is the first of a five part series. Part II is already available.
Release Date: 22 November 2022
Excerpt from The Case of the Black Diamond, by Clyve Rose:
Outside The Soho Club, dark clouds gathered in the afternoon sky. The air thickened, closely heavy in the prelude to a drenching. Claire shivered at the change in temperature, the tensing of mood. She sipped her coffee, watching Xander Lindsey, watching her. His gaze seemed focused rather closely on the rim of her cup, specifically where the fine china met her lips. 
She sipped her brew again. "If you're intent on seduction, you should know I am not my sister."
His gaze lifted to her face, steady, focused, powerfully intent. "I have never seduced your sister. I am no rake, Claire." His voice remained sure, strong, and deeply tempting.
"So it's a ruse?" She guessed.
He inclined his head, his "mmmm," resonating low in his throat, like a throb. "We can't all mask our clandestine activities with scent." His tone turned husky, intensity sharpening like a honed blade.
"I am not in the habit of short term liaisons," Claire spoke carefully. "I am not in the habit of being seduced, either."
"There's a remedy for that," he said quietly, suggestively. Did his voice deepen further? How deep does he—stop it.
As though he'd heard her, Xander set down his cup. He walked slowly towards her, the way one might approach a rare and dangerous object.
"Tell me, Claire Ryan, are you armed?"
"Why do you ask?"
"Because I should like to kiss you. If I halt here, you may blade my heart open instead," he stopped halfway across the chequered floor, arms by his sides like a supplicant. A supplicant with warm brown eyes, and a devastating dimple.
Claire affected a study of the distance between them, lifted her head, locking her gaze to his.
"Three steps back gives you a sporting chance, Xander Lindsey."
"Indeed?" The resonance from his baritone rippled through her. Nevertheless, he held his ground and Claire lifted a brow, gaze travelling brazenly over his planed face. He stared right back, smiling, offering that dimple where she lingered before studying the cleft in his chin, his corded neck muscles, those powerful shoulders of defined shape. Her gaze dropped lower, taking in his broad torso, narrow waist, and the shapely front of his trousers. She smiled then, wide and joyous, walking slowly towards him, slower than ever, as though she may never reach him, never touch him. Time stretched out, thinning, heating, bringing her closer to the heft of breath beneath flesh, her pulse beating faster with each step until her skin throbbed with the thought of his lips beneath hers, his surrender within her body. 
"Something to savour," she murmured, watching his answering smile. His tongue darted out, licking his lips and she let out a small laugh, not blinking at all. Not missing a moment of Xander Lindsey standing before her, arms at his sides, gaze locked on hers with an impulse she felt in every nerve and muscle. Claire touched his cheek, stroking him gently before leaning forward, lips positioned inches from his. Reaching up, she slipped her other hand beneath his jacket, sliding her palm over his shirt, feeling his breath shorten, his weight shift…until she located his hidden jacket seam. Keeping her gaze on his, she extracted his pistol as smoothly as possible, stroking the barrel along firm muscle as she withdrew. She kept his barrel there, smoothing it lightly back and forth against his shirt, teasing him with danger, with steel, with her unbroken gaze.
"Is it cocked, my lord?"
Author Bio:  Clyve Rose is an award-winning author of historical fiction in Australia and the US. She has been writing historical romance for the best part of two decades, and has three bestsellers to her credit. She believes that love is the highest and strongest force known in the world, and that it only manifests when we are our best and truest selves. She'll continue writing about love in all its various, glorious forms, and that one day her epitaph will read Just one more read-through.