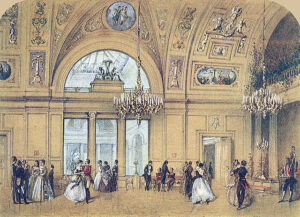 Dear Readers,
Spring is in the air, and the ladies of the ton have set about managing the affairs of what is so crassly referred to as the Marriage Mart: "Lord X could do with an infusion of, ahem, cash for his hunting box—an heiress would do. Lady Y is looking for nothing less than a marquess."
Ah, and then we have Miss M. While the leading ladies of the ton whisper about dowries, incomes, and whether a man's questionable peculiarities render him completely unsuitable, the Tattler has received news of this particular miss making her come-out.
Her dowry is rumored to be staggeringly large and has drawn the interest of no less than an earl, Lord H, a man with an unfortunate, but to some parties, not unqualifying reputation. Miss M's father, a man of the mercantile class, has accepted his suit. The bride-to-be, we are told, is the compliant sort and will do as she's told.
Interestingly, the lady bringing Miss M out, a spinster of good enough ton but small fortune is rumored to oppose the match. In fact, she is rumored to have gone daggers with one of the primary instigators of this arrangement, Lord H's uncle.
Ah, but perhaps I've said too much. As to whether Miss M will soon be Lady H, we must wait to see if a bridal announcement is forthcoming.
Liliana's Letter
The Matchmaker
A promise to his long-dead sister forces Lord Grigsby back into society to broker the marriage of his disreputable nephew to the heiress whose money can save the earldom.
The Matchbreaker
Liliana Ashford has been hired to help an heiress pass muster with the ton and snare a titled husband. Though, if she had a magic wand, she'd turn her charge's fiancé back into the toad he truly was.
Scandal and a New Match
But she never plotted murder! As the young Earl's sordid death evokes the scandal of the season, a shadow from Liliana's own past appears, threatening her carefully crafted world. Grigsby sets about finding his nephew's killer…and Liliana's secrets. Meanwhile she scrambles to make a new match for the girl, because finding a husband of her own is out of the question—or is it?
Excerpt
The woman at Grigsby's side was like a lightning rod expecting a bolt to strike, or like a Fury about to deliver one. This close, scent wafted from her, roses and lemon, he'd guess. Tall, straight, and stiff, underneath her self-possession was a temper ready to unleash. He would bet on it.
Intriguing. He dared to poke her ire. "You clearly don't approve of the match. Do you intend to openly oppose it?"
Her head whipped around, and she glared. "It's not for me to approve or disapprove. Katie—Miss Mercer—will decide."
Passion flashed in her eyes, sending an answering spark through him. She was magnificent—though so very mistaken. "Really? Then her father is more liberal than I expected."
She looked him over more closely. "What do you know of this matter?"
I might ask you the same question. Her tone had been stiff, like the crystallized dome covering bubbling lava. He fixed her with his sternest glare, not entirely surprised at her cheek.
His glower didn't impress her. She lifted her shoulders higher. Stood a little taller, proud, lovely, and filled with indignation.
Quite righteous indignation. He gave into an unmanly sigh, truly weary of his responsibility for Thomas. "I know a good deal, Miss Ashford. I have been negotiating for these nuptials. The arrangement is my doing as much as Mr. Mercer's. Much more than it is my nephew's. He is probably the least culpable, except for his abominable behavior."
She clenched her hands tightly. "I see."
"Thomas's mother was my older sister. I made a promise to her that I would look after him." Her gaze softened, and she bit her lip in a way that made him want to taste the part that she was nipping.
And where had that thought come from?
"And your nephew needs money and an heir."
He nodded. As a woman of the ton, of course she would understand how marriage worked. Marriage wasn't about love, or the bride's approval, or a plump lower lip that begged to be kissed.
"He needs money most of all. He has a younger brother in the army who would make a far more dutiful earl."
He covered his mouth with his hand. The words had rolled out, shocking him. He rarely spoke this frankly with any woman.
Very well, he never spoke this frankly with any woman.
She released a soft breath. "And there is the matter of the ore."
His mouth gaped and he quickly closed it. Mr. Mercer had shared that information? Well. "That part of the county is rich with newly discovered veins of iron."
That information brought her up straighter. She looked away, gazing intently at a thick, dark spot of foliage, making him want to pry into that sharp mind.
"I see," she said. "I believe we should go back in now."
Not yet. He tucked her hand over his arm but did not move. "I had hoped we were not finished talking. I've learned your Christian name is Liliana, but I don't know anything else about you. I don't know where you're from or anything about your family."
He sensed her bristling, and waited for some reaction, perhaps a slap, verbal, or, with a woman of her passion, even a physical one. Strictly speaking, he was importuning her, and damn if he wasn't enjoying the nerves rippling through her.
99 cents for a limited time
Buy links
Amazon: http://amzn.to/1VBXAld
Kobo: https://www.kobo.com/us/en/ebook/liliana-s-letter
iBooks: https://itunes.apple.com/us/book/lilianas-letter/id1046400564?mt=11
Google:   https://play.google.com/store/books/details/Alina_K_Field_Liliana_s_Letter?id=eC4iDAAAQBAJ
Nook: https://www.barnesandnoble.com/w/lilianas-letter-alina-k-field/1122799716?ean=2940151188487
About the Author
USA Today Bestselling and award-winning author Alina K. Field earned a Bachelor of Arts Degree in English and German literature but prefers the much happier world of romance fiction. Though her roots are in the Midwestern U.S., after six very, very, very cold years in Chicago, she moved to Southern California and hasn't looked back. She shares a midcentury home with two spunky rescues, a blonde terrier and a people-loving chihuahua.
She is the author of several Regency romances, including the 2014 Book Buyer's Best winner, Rosalyn's Ring. She is hard at work on her next series of Regency romances but loves to hear from readers!
Visit her at:
https://www.facebook.com/alinakfield
https://twitter.com/AlinaKField
https://www.goodreads.com/author/show/7173518.Alina_K_Field
https://www.pinterest.com/alinakf/
https://www.instagram.com/alinak.field/
https://www.bookbub.com/authors/alina-k-field
Newsletter signup:  https://landing.mailerlite.com/webforms/landing/z6q6e3
Amazon Author Page https://www.amazon.com/Alina-K.-Field/e/B00DZHWOKY