Welcome, devoted readers of the Teatime Tattler. My name is Tess Cochran, investigative reporter for the Weekly Informer, and I am here to bring you the truth. What truth, you ask? The truth behind the spiritualist craze sweeping our good nation. Now, this reporter can make no claim regarding the existence or non-existence of ghosts or spirits. But what I aim to reveal are the secrets behind the so-called mediums and other spiritualist practitioners who have made it their goal in life to defraud good people such as yourselves with false spirits.
Only yesterday, I attended a seance performed by the well-regarded medium Madame Xyla. Like others of her ilk, she exudes a mystical charm and an air of competence that lure her audience to believe her pronouncements. Aided by a room shrouded in darkness, magicians' tricks of moving tables, mysterious noises, and sleight-of-hand create a compelling illusion of ghostly visitations.
To add to the allure of the seance, this event also hosted a spirit photographer peddling his wares. Still all the rage in America, in recent years these trick photographs have gained popularity and created a host of devoted believers on our side of the Atlantic. No mere portrait, these. For a price, Mr. Jack Weaver will pose you before the camera, using his knowledge of the art of photography to create a faint "spirit" standing or hovering beside you—a visitation, he says, by a dearly departed friend or relative.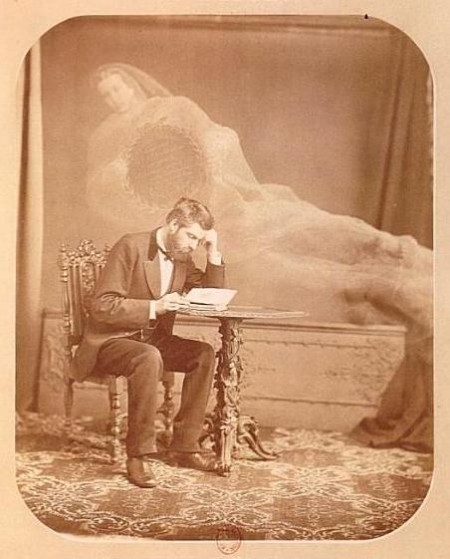 But how does this trickster accomplish such a feat? One has heard, I am certain, of the double-exposure: a technique where two images are imprinted on the same photograph. During my own sitting, I saw no evidence to suggest that Mr. Weaver used such a method, but there are other, less obvious techniques, and I intend to learn them all. Rest assured, I will be keeping a close eye on Mr. Weaver as I delve into his mysterious art.
Thanks to the generosity of a friend, I have acquired an invitation to the greatest spiritualist gathering of our time: a contest held at the remote (and reportedly haunted) castle home of the Earl of Bardrick. This two-week gathering of the most popular spiritualists of the day will give me a once-in-a-lifetime opportunity to bring to light the truth of these con artists. And you, dear readers, are the first to know of it.
Wish me luck, my friends. With my notebook and pen in hand, and a determination to save the good people of England from those who would swindle them, I prepare to depart. Be sure to watch for the Weekly Informer, where soon I will lay the truth bare for the world to see. Until then, I bid you farewell.
-T. Cochran, journalist and champion of truth
About the book:
Follow Tess's adventures as she seeks the truth and tangles with roguish spirit photographer Jack Weaver in The Scoundrel's New Con, a fairy-tale inspired Victorian romance set in the Lady Goosebury's Tales shared world.
He's pulling the con of a lifetime. Unless she exposes the naked truth.
Conman Jack Weaver has his eyes on the prize. The arrogant Earl of Bardrick has offered five thousand pounds to anyone who can prove his castle is haunted. With money like that, Jack can ensure he'll never end up on the streets or in prison again. And his spirit photography skills are just the trick needed to convince all of the earl's houseguests to believe in something unseen.
Investigative journalist Tess Cochran believes in one thing: the truth. She's not going to let phony ghosts and trick photographs swindle anyone, even a snobbish aristocrat like Bardrick. And she's certainly not going to let herself be swayed by Jack Weaver's charming smile and mischievous antics.
When Jack and Tess stumble upon one of the castle's many secrets, they realize something nefarious lurks behind the earl's competition. To solve the mystery, these rivals forge a reluctant partnership. As they strip down the facts, Jack and Tess begin to find that the deepest truths may be concealed in their hearts.
About the Author:
Award-winning author Catherine Stein believes that everyone deserves love and that Happily Ever After has the power to help, to heal, and to comfort. She writes sassy, sexy romance set during the Victorian and Edwardian eras. Her books are full of action, adventure, magic, and fantastic technologies.
Catherine lives in Michigan with her husband and three rambunctious girls. She loves steampunk and Oxford commas, and can often be found dressed in Renaissance Festival clothing, drinking copious amounts of tea.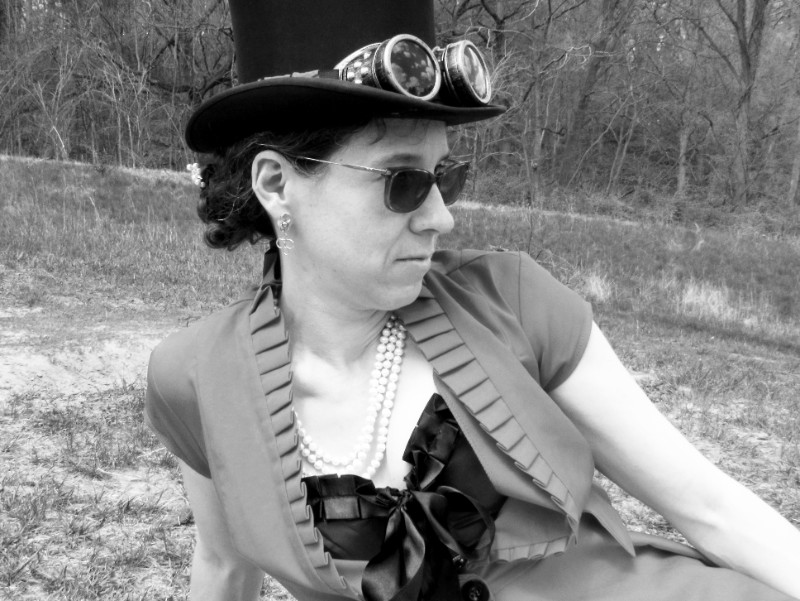 Social Media Links:
Facebook: https://www.facebook.com/catsteinbooks/
Twitter: https://twitter.com/catsteinbooks/
Instagram: https://www.instagram.com/catsteinbooks/
Pinterest: https://www.pinterest.com/catsteinbooks/
Bookbub: https://www.bookbub.com/profile/catherine-stein
Goodreads: https://www.goodreads.com/author/show/18369592.Catherine_Stein
Newsletter: https://www.catsteinbooks.com/newsletter