Exclusive to the Teatime Tattler
The Duke of G__ arrived in town this week with a highly irregular guest. A Mr. K_, a Welshman with three children stays at the duke's elegant townhouse where he is being treated almost, dare we say it, as family. Our usual sources—servants do talk, especially when in their cups at certain taverns—imply the men act like brothers.
That can't be, of course, as this K__ is several years older than the duke. The previous duke acknowledged no illegitimate children so one is left to wonder. Who can this man from Wales be, and why is the young duke eager to spend time with him?
We've been told the man has a pronounced limp, and our sources tell us the previous duke once took in a young man with a similar disability, but was forced to show the ungrateful miscreant the door. Is K_ the same person? Of course they've attended no social events so it has been difficult for society to get a good look.
We're led to understand that there was a recent reconciliation with his father's wife, the Dowager Duchess. Can she be involved in this family tangle?
The Tattler can only wonder what the Duke of H_ thinks about this turn of events. The Duke of G_ is well known to have been courting H__'s granddaughter during the recent Season and an offer is expected. Indeed it may have already been made. Will an irregular family situation derail young G__'s hopes?
The Dowager Duchess of Glenmoor was indeed involved in her stepson's complicated relationship with that mine owner from Wales. The story is in The Defiant Daughter.
About the Book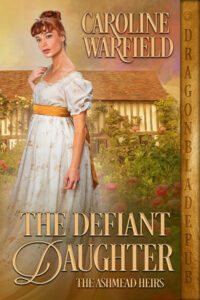 Madelyn assumed marriage as an old man's ornament would be better than life with her abusive parents. She was wrong.
Now the widowed Duchess of Glenmoor, she wrestles with ugly memories and cultivates a simple life. She is content. At least, she was until her half-brother returned to Ashmead bringing a friend with knowing eyes and coal black hair to capture her thoughts.
Colonel Brynn Morgan's days as an engineer in his father's coal mines in Wales are long behind him. With peace come at last and Napoleon gone, he makes a life for himself analyzing the reports about military and naval facilities worldwide for a shadowy government department. What income he has is committed elsewhere. He has nothing to offer a wife, much less a dowager duchess.
More lies between the duchess and the man she wants than money and class. They have personal demons to slay.
About the Series
When the old Earl of Clarion leaves a will with bequests for all his children, legitimate and not, listing each and their mothers by name, he complicated the lives of many in the village of Ashmead. One was his defiant daughter. He left her nothing.
One sleepy village
One scandalous will
Four tormented heirs
About the Author
Award winning author Caroline Warfield has been many things: traveler, librarian, poet, raiser of children, bird watcher, Internet and Web services manager, conference speaker, indexer, tech writer, genealogist—even a nun. She reckons she is on at least her third act, happily working in an office surrounded by windows where she lets her characters lead her to adventures in England and the far-flung corners of the British Empire. She nudges them to explore the riskiest territory of all, the human heart.
Visit Caroline's Website and Blog                http://www.carolinewarfield.com/
Meet Caroline on Facebook                          https://www.facebook.com/carolinewarfield7
Follow Caroline on Twitter                            @CaroWarfield
Email Caroline directly                                  warfieldcaro@gmail.com
Subscribe to Caroline's newsletter               http://www.carolinewarfield.com/newsletter/
Amazon Author                                                  http://www.amazon.com/Caroline-Warfield/e/B00N9PZZZS/
Good Reads                                                         http://bit.ly/1C5blTm
Bluestocking Belles                                          http://bluestockingbelles.net/about/caroline-warfield/
Book Bub                                                           https://www.bookbub.com/profile/caroline-warfield