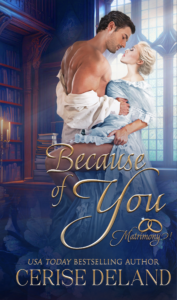 Dear Sir,
I am here to report a tale of treason. It involves a lovely French emigre and one of our finest English families! 
You must print this so that this lady—a princess of Bourbon blood, too—does not corrupt this good English family completely.
It began weeks ago when our renowned MP, Sir R—was pushed into the and run over by a careless coachman. He nearly died. He has lost his leg to amputation. But I ask you, who put the coachman up to the heinous crime???
I say it was this Miss Marguerite, aka 'Daisy' M—. Yes, she of the famous M— family, comtes of Normandy. Cousins to the new King Louis and his family. She has hidden in our country, lo these many years with her large elusive family, who are nothing more than thieves and charlatans themselves! 
Why has she appeared at our poor Sir R—'s home? And at such an importune time?
Why does she remain? 
I tell you why. I have it on good authority that she seduces SIr R's nephew. He is younger than his uncle and handsome as a god. 
You must stop her seduction. She is dangerous and will only once again ruin the name of Sir R's nephew. After all, he was once suspected of murder. Though the true criminal was never caught, Sir R's nephew must not fall for this lady and further lose whatever reputation he has left.
Spread the word, dear sir.
Daisy M— is not to trusted.
***
Excerpt, BECAUSE OF YOU, Copyright, Cerise DeLand 2023. All rights reserved.
"You are most kind," Daisy told her host as the servant departed. "And I have intruded. I do beg your pardon. I had no idea Mr. Ruxton was
injured."
"Sir Daniel," Garrick said with a tone of polite correction.
She tipped her head. "Excuse me?"
"My uncle is Sir Daniel Ruxton, Baronet Ruxton. Eighth of his line."
"Forgive me. I had no idea."
He walked toward her and took the settee opposite. An arm flung across the back, crossing one leg over the other, he regarded her. His perusal this time was friendlier than before, but inquisitive. "You truly have no idea who my uncle is?"
She knew not what his phrasing implied. She told him what she could. "I do know that he wrote to me for weeks. That he is a widower with two young daughters whom he loves dearly. That he wishes for himself to have a normal life again, which, since the death of his wife, he has not enjoyed."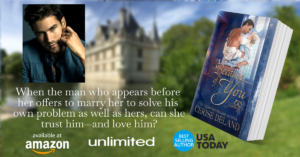 With knitted brows, he took that in as if he weighed it in his heart. "My uncle is a kind man, a good one, Miss Molyneaux. He does suffer with this injury. I will tell you that. We do pray for his recovery." 
"As do I, sir. As do I. Oh, not…not because I wish an apology. Not now. But because one should not suffer so dearly. Life is difficult enough without…without chaos." And now chaos was hers. If Sir Daniel did not marry her, chaos was once again hers.
"Just so." Mr. Ruxton pressed his hands together. "I gather you understand that well."
She stared at him. "I do."
He inclined his head toward her. "The chaos of your particular memories."
She flinched. Her particular memories. She successfully hid them most of the time. 
"The Terror?"
"Oui." Would she never escape it? "The Great Terror."
"I must ask, miss, why precisely were my uncle and you to meet at Gunter's?"
"He was to bring me home and—"
"Pardon me." The man blinked. "You would come…here with him?"
"That's normal. I mean—"
The man's angelic eyes turned a shocking green. "To live?"
"Well, yes. That is the way."
"You were to be his…" He gazed around the room, looking for a word.
"Wife."
***
MATRIMONY! #2  BECAUSE OF YOU
Love does not advertise. Love is not proud. 
But when a young woman has nothing left but pride, she places an ad and hopes for a husband to treasure.
Miss 'Daisy' Molyneaux is desperate. All her family is dead. Her home in Normandy, attacked by mobs. Now that the little general has abdicated, she has a chance to gain back her lands. But she needs a husband who will help her regain her rights. So she pays to post an advert for a husband.
When the man who answers is not one she could ever love, but his nephew could be, can she accept his proposal?
Garrick Ruxton appears to her like a golden-haired hero, a handsome creature who saves her from an imperfect marriage. Garrick vows to  accompany Daisy to France and, in the bargain, solve his own problem. His shipments, meant for British forces on the Continent, constantly go missing. He knows not who or how or why the thieves steal his goods. Worse, someone has attempted to kill his uncle. Daisy, too. 
Garrick must find all those guilty before he is accused of treason. Before Daisy loses all hope of regaining her rights. And before they both lose the one chance they have to find happiness together.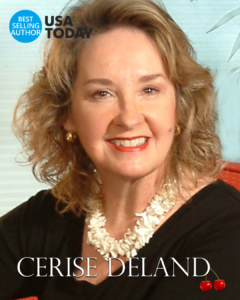 BUY LINK: 
Cerise DeLand is the USA TODAY bestselling author who hates to dust, loves to cook and write!
Visit her: http://cerisedeland.com