The editor will be appalled, and rightly so, by the stories currently in circulation concerning a certain Miss I—-s. 
Far be it from me to promote tittle-tattle, but I have it on the Very Best Authority that the young lady in question has been spotted attired in Men's Garb. If this new denizen of Bath is as unstable as the infamous Caroline Lamb, might I suggest that her Mama not only obliges her to drink our Famous Spa waters but immerses her in them as well.
The young lady in question also appears to have a remarkable ability to recover from the most serious of illnesses—even without recourse to said Healing Waters. A visit by an undertaker after news of Miss I—–'s demise was followed rapidly thereafter by her being seen at a coffee house, squired by none other than the gallant Captain H.
Whilst I have great respect for the Military, I cannot approve of so worthy a Gentleman allowing himself to be seen in public with such a rackety, harum-scarum young female. Furthermore, if his week-long vigil outside her door was a polite form of House Arrest, I am most put out that he did not inform those of us who dwell nearby what menace the I—-s family represents to its neighbors. It was most thoroughly remiss of him. 
Any further explanation of these events would be most welcome so that we Bathonians may be reassured that we do not harbor a disturber-of-the-peace among us and may continue to rest easy in our beds.
A Game of Hazard
Her fate depends on a roll of the dice.
There's a price on her head…
Miss Alexandra Isaacs learned many things at finishing school but how to run a vast smuggling empire wasn't one of them. She's desperate to protect this perilous inheritance because so many lives depend on it. However, there's a traitor in their midst, and Alex must risk exposure to unmask him. There's external danger, too, in the shape of a clever—not to mention compelling—excise officer. It would be utter folly to allow the captain any closer, but that's precisely what a blackmailing matchmaker forces Alex to do.
…and he means to claim it.
The reward for capturing the smugglers' ringleader is hugely tempting to Captain Giles Harewood. His sisters are in dire need of dowries and the Bath Season is in full swing—the perfect opportunity to find husbands for them. But the implacable Lady Pandora Osbourne has other plans for this confirmed bachelor—plans that could destroy all his hopes.
Who will win and who will lose in this deadly game of Hazard?
The above story is part of THE WEDDING WAGER anthology.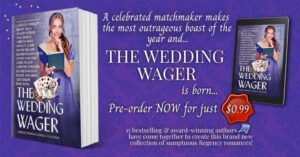 The Boast—pride goeth before the fall…
After facilitating the match of the season, Lady Pandora "Pansy" Osbourne, has boasted that she is the best matchmaker The Ton has ever seen. Always willing to bring her cousin down a peg or two, her cousin, Lady Octavia Sewell insists that was no feat of matchmaking at all, as the couple involved were clearly destined for one another despite Pansy's meddling. A bitter argument ensues and a dreadful challenge is issued. Pansy must do more than say it… she must prove it.
The terms of the wager are set!
Pansy must produce no less than one match per month between people who have been notoriously unmarriageable—spinsters, bluestockings, rakes and fortune hunters, oh my! But there's more riding on this than simply her pride! If Pansy loses, she will have to give up her most prized possession—a tiara that belonged to their grandmother will be forfeited into Octavia's grasping hands.
The Ends Justify the Means… or do they?
Desperate to make these matches, prove her claims of matchmaking prowess to be true and make Octavia eat crow in a very public fashion, Pansy resorts to the greatest weapon in any matchmaker's arsenal—the house party. Not just one, but a series of them. For two weeks out of every month, she will open her home to an assortment of victims…er, guests. At the end of each party, one couple will emerge either betrothed or wed, by fair means or foul.
Find your Buy Links here to take advantage of the pre-order discount-
https://books2read.com/weddingwager
The anthology will be published on September 27th.