Gentle Reader:
 Is romance in the air? This reporter saw none other than Lady C.W. being escorted by none other than Viscount D.O. The lady seemed to be enjoying the gentleman's company whilst he escorted her to various vendors set up on the ice during today's Frost Fair. We shall be keeping an eye out to see where this budding romance may lead, given the Viscounts departure on business several years ago. In either case… the lady seems particularly pleased of his return to England's shores.
An anonymous report for
The TeatimeTattler
---
Belle Sherry Ewing brings you A Second Chance At Love previously published in the Belles' box set Fire & Frost. She now has it up for individual sale with a release date of February 9th.
Excerpt:
A rush of air left his lips as though he had been holding his breath while awaiting her answer. He stepped up to the desk and reached for her hand, kissing the air between his lips and her knuckles as any proper gentleman would. "You are very gracious, Constance. I must admit I was afraid you would hate me, considering how I left things between us."
She gave his hand a gentle squeeze. "I could never hate you, Digby." A blush rushed to her cheeks at the tone of her voice. They had been on a first name basis two years ago and somehow it seemed right to call him by his given name. My word, she had missed this man.
"Then perhaps you would allow me to escort you to a meeting at the Duchess of Haverford's residence next week on the third. I understand she is in the process of forming several committees to organize an event for The Ladies' Society for the Care of the Widows and Orphans of Fallen Heroes and the Children of Wounded Veterans."
Constance laughed. "You must be joking? Why, you will never get all that on any kind of a banner."
Digby joined her and laughed. "I would never make up such a tall tale, my lady."
"No one in their right mind would, although it does sound like a worthy cause."
"I could not agree more, which is why I have offered my services to the gentleman's auxiliary, whose responsibilities will include making sure you ladies are able to do your work in this dreadful weather. I knew this was just the sort of event that would be of interest to you."
"You know me so well. I would be happy to accompany you, Digby."
"Wonderful," he replied with a smile. "If your aunt could join us and act as chaperone, then I could pick you both up around noon, if that is acceptable."
"I will eagerly await next week, my lord."
Digby took her hand again and bowed over it. "As will I, my lady."
His gloved hand felt warm in hers. When Digby's thumb gently caressed the back in a small circular motion, Constance's heart leapt at the possibility that all was not lost. Her eyes went to his in a long lingering glance as pleasure swept across her entire being. She smiled, and he returned it with a smile of his own. Constance could not remember when she had ever been this happy.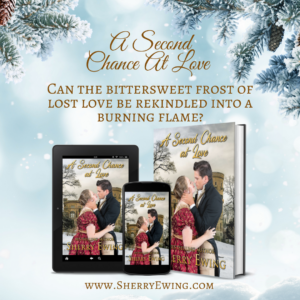 A Second Chance At Love
A Frost Fair Regency Romance
By Sherry Ewing
Special preorder price of $0.99
Can the bittersweet frost of lost love be rekindled into a burning flame?
Viscount Digby Osgood returns to London after a two-year absence, planning to avoid the woman he courted and then left. Surely she has moved on with her life; even married by now. A bit of encouragement from a friend, however, pushes him to seek the lady out. Can she ever forgiven him and give them a second chance at love?
Lady Constance Whittles has only cared for one man in her life. Even after he broke her heart, it remains fixed on him. Another man tries to replace him, but she soon learns she can never feel for him a shadow of what she still feels for Digby. One brief encounter with Digby confirms it; she is more than willing to forgive him. Can they truly take up where they left off?
Charity projects and a Frost Fair on the Thames bring them together, but another stands in their way. Will he tear them apart?
Buy Links:
Amazon US | Apple Books | Barnes & Noble | Kobo | Books2Read
Amazon AU | Amazon BR | Amazon CA | Amazon DE | Amazon ES | Amazon FR | Amazon IN | Amazon IT | Amazon JP | Amazon MX | Amazon NL | Amazon UK | Angus & Robertson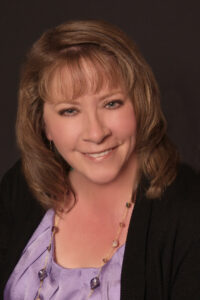 About Belle Sherry Ewing:
Sherry Ewing picked up her first historical romance when she was a teenager and has been hooked ever since. A bestselling author, she writes historical and time travel romances to awaken the soul one heart at a time. When not writing, she can be found in the San Francisco area at her day job as an Information Technology Specialist. You can learn more about Sherry and her books on her website where a new adventure awaits you on every page!
Find Sherry at these social media outlets:
Website & Books 
Amazon
Bookbub
Facebook
Goodreads
Instagram
Pinterest
 Tumbler
Twitter
YouTube
Sign Me Up!
Newsletter
Facebook Street Team
Facebook Official Fan page