5 January 1815
Bath, England
Dear Interested Parties,
Today's Topic: Classical Mechanics or the Magic of Numbers. Honestly, I'm not entirely sure which.
It is with great honor that I announce that none other than the reclusive Dr. John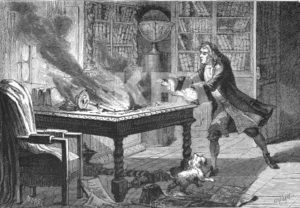 Edward Hartwell has agreed to give a lecture on Mathematics and Sir Isaac Newton's Laws of Classical Mechanics as well as discuss his own theories, recently printed, with regards to chaotic tendencies in orderly systems, at my home near Bath on Monday the 9th of January.
Perhaps, after I attend his lecture, I will understand what, precisely, all that means.
In the meantime, my guests and I await with baited breath, the arrival of our mysterious genius. Never fear, dear readers, for you will be the first to hear all the delicious details regarding this elusive man. Here. In the Teatime Tattler.
My Umbrella is at the ready.
Signed,
Lady Harriett Ross
—Self-proclaimed Matchmaking Motley Meddler
—Mistress of Destiny
—Wielder of the Infamous Umbrella
Bloomfield Place
Bath, England
I'm just an old woman with opinions. On everything.
Editor's Note:
More Information to follow as Lady Harriett Ross and author Amy Quinton reveal more of what's to come in the 3rd Installment of the Umbrella Chronicles: John and Emma's story. Due in time for Valentine's Day, February 2019.
The image is an engraving of Sir Isaac Newton (1642-1727), English scientist and mathematician. It captures the story of Newton's dog, Diamond, who once knocked over a candle while Newton was out of the room, causing the papers piled on Newton's desk to catch fire. Those papers contained some pretty important information – they were filled with calculations which had taken him twenty years to make! Upon finding nothing but ashes remained of all his hard work, he cried, "Oh, Diamond! Diamond! Thou little knowest what mischief thou hast done!"