The Teatime Tattler wishes to go on record as saying that it does not believe the scurrilous rumours currently circulating throughout society regarding the Merry Marquis, the Saint of Mayfair, and other members of the renowned H. and W. families.
Had these rumours been true, you can be sure that your intrepid Teatime Tattler correspondents would long since have uncovered the facts and reported on them. We are pleased to rank ourselves with the two highly respectable families to deny the rubbish that is being printed elsewhere in lesser journals.
To Tame the Wild Rake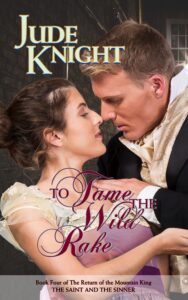 The whole world knows Aldridge is a wicked sinner. They used to be right.
The ton has labelled Charlotte a saint for her virtue and good works. They don't know the ruinous secret she hides.
Then an implacable enemy reveals all. The past that haunts them wounds their nearest relatives and turns any hope of a future to ashes.
Must they choose between family and one another?
Buy Links
Amazon US: https://www.amazon.com/gp/product/B09944JGMR/
Or find other links on Books2Read: https://books2read.com/CMK-ToTame
Excerpt
Her first hint that something was wrong was in the reception line. She smiled a greeting at an acquaintance, who suddenly found it necessary to turn away to speak to someone else. It kept happening, and a space opened up around the three of them—a space surrounded by backs, frowns, and the hum of whispers.
When they reached the reception line, the hostess flushed a deep red. "Lady Charlotte… I did not expect… that is…" She turned to her husband, who spoke to Nate. "Under the circumstances, Lord Bentham, perhaps it would be best if you took—er—the sisters home."
Nate's face had turned to granite and his voice was icy. "What circumstances would those be, Lord Fenton?"
The man cast a desperate look around him and stammered, "No smoke without fire, what? Best just to go home." His wife slipped her hand into his and he pressed her hand to his heart, before pleading, "Look, Bentham, my wife has planned this for weeks. Don't make a scene."
Nate stood his ground. "What. Circumstances."
"Not the place to talk about it," Fenton insisted. "Ask me tomorrow. Ask anyone. It's all over town."
They've found out about me and Aldridge. Charlotte touched her brother-in-law's arm. "Let us leave, Nate. We are not welcome here."
"I will remember this, Fenton," Nate commented, his statement all the scarier for its conversational tone.
They left, Charlotte on one of Nate's arms and Sarah on the other, the crowd separating before them as if afraid of contamination.
Uncle James had not gone out that evening, having shelved his plans to attend the Opera after the altercation with the Duchess of Haverford. He was in his study with Yousef, but called through the open door when they arrived.
Drew was there before them. "Bad evening?" he asked.
"That prat Fenton threw us out," Nate told him. "Something about 'circumstances'."
"Circumstances, eh?" Drew commented. "The manager of my club told me, very politely, that my membership had been temporarily suspended pending investigation of 'circumstances'."
"Did the club or Fenton give you any information about these 'circumstances'?" Uncle James asked. He had poured each of them a brandy, even the twins, and was handing them out.
Another arrival in the hall proved to be Jamie and Sophia.
"Surely you haven't been shunned, too?" Charlotte asked, as Uncle James poured a brandy for his eldest son and a port for Sophia.
"Oh dear," Sophia replied. "Has it come to that?"
Uncle James summarised the situation. "Charlotte, Sarah, and Nate were turned away from the Fentons, and Drew's membership of his club has been suspended. Do you know what this is about?"
Sophia accepted her port. "We came to tell you that the whole town is buzzing with stories, many of them about the Winshires, others about the Haverfords. People have been dredging up history going back to Aldridge's childhood, and every scandal he has ever been connected with, plus a few I've never before heard. Jessica has gone home in tears."
"And the same with our family," Jamie added. "Every incident that can be misinterpreted or cast in a bad light, right back to your duel with Haverford when you were a young man, Kaka."
Yousef swirled his coffee thoughtfully. "It sounds like Wharton, Yakob," he suggested. "Were not he and his witch of a sister masters of the nasty rumour?"
"You're right, Yousef," Jamie agreed. "Let us track the stories to their source and stamp on the snake's head."
"Which will not stop people repeating them," Sarah pointed out, "and how are we to prove they are not true?"
"We cannot," Charlotte said, slowly, remembering her conversation with the Duchess of Haverford. "We should not. We simply face the scandalmongers down and refuse to bow our heads. We speak not to petty people with evil minds but to those with real power. The Queen will receive Mama, I am sure, and you could talk to the princesses, Sophia. Kaka, you have influence with the Prince Regent. If they will show their support in public, that will help."
Sophia nodded approvingly. "Yes, Charlotte is quite right. For every rumour we disprove, another will pop up, even worse. Why, they are saying that you seduced your own brother, Charlotte, and that he killed himself as a result. Yes, and that the reason Sarah ran away with Nate was that you and she were disporting with the rakes at one of Richport's orgies, and Grandfather was threatening to make you each marry one. Also that Charlotte has been Aldridge's mistress ever since. How can people swallow such rubbish?"
The room swirled around Charlotte. Someone took her hand in a firm grip and advised her to breathe. Sarah. She took a sip from the brandy glass held to her lips and the burn of the alcohol brought her back.
"A kernel of truth," she croaked, then took the glass from Sarah and sipped again. Her voice steadier, she said again, "A kernel of truth. Richport had an estate next to Applemorn Hall, where Sarah and I were living when Sarah fell in love with Nate. I met Aldridge that summer." She smiled as her uncle and cousins, without moving, shifted into warrior mode, alert as hawks sighting the rabbit. "He was a perfect gentleman, and kind to a little girl," she assured them.
She looked around the room. She knew her family loved her, and Yousef was fiercely loyal. But surely, they would look at her differently if she told them the other morsels of truth in that litany of lies. Her brother Elfingham had raped her. She had spent a night with Aldridge.
Sarah squeezed her hand. "I imagine we shall find other morsels of truth buried in some of the other rumours. Although some seem to be made out of whole cloth. I imagine it unlikely in the extreme that Aldridge killed a circus performer who happened to look like the Rose of Frampton in order to allow his mistress to adopt a new identity and marry his friend Lord Overton."
Drew, Sophia and Jamie each had a rumour to quote, all of them ridiculous.
The attacks on Uncle James and the rest of the family three years ago had been staged to win public sympathy and disguise the fact that Uncle James was an imposter—an Easterner who had known the real son of the deceased duke when he was in prison in Persia. The attacks were real enough, as Charlotte knew. The rest was nonsense.
Aldridge had sold his brother Jonathan to slavers, along with his brother's wife, Prudence Wakefield, who was a former lover of his. They would be slaves to the Saracens yet, but Prue whored herself to buy her escape. Or Jonathan did. Charlotte had heard Prue speak of how she and Jonathan had been kidnapped from the London docks, and of how they'd escaped into France. So another farrago of lies.
Uncle James and Aunt Eleanor had been lovers in their youth, and had resumed their affair when Uncle James returned to England.
Charlotte spoke again when the chuckles died down. "We need Aunt Eleanor." She or Mama, but Mama had gone to Leicester to be with Ruth in her confinement.
Sarah started to protest and Uncle James frowned, but Charlotte held up a hand. "No one is better at the politics of Polite Society. And these rumours concern her and her family, so she will be working to combat them. It is better strategy to work together."
"Charlotte is right," Sophia said, oblivious to the undercurrents. "A pity that Aunt Grace and Aunt Georgie are both from town. Still, Aunt Eleanor will be able to marshal Society's dragons on the side of right."
"Yes, and the Wakefields will know how to track the rumours back to Wharton, wherever he lairs," Uncle James agreed. "We have a plan, my children. I suggest we sleep on it, and send for the duchess and the Wakefields tomorrow."