What's a bit of gossip between friends… a letter written by Lady Carolina, Dowager Viscountess Solisbury, to her bosom bow Lady Eugenia Springhope, Countess of Colston.
8th of July, 1809, Camberley, Surrey
Dearest Genie,
First and foremost, my apology for not responding to your last letter. As I wrote previously, Charles and I accepted an invitation to join Muriel Weatherington's house party. We arrived yesterday and have been enjoying the most delightful company. The viscountess does know how to entertain!
I feigned a megrim to escape an afternoon in an apple orchard of all places so I could write of the goings on here. Where do I begin?
The gentlemen! What handsome specimens of English nobility!  Viscount Weatherington, the handsome devil invited his equally as handsome friends from his school days. You know who I mean. The Earl of Moreham, Viscount Sturmbridge, and the Earl of Crossley. All four gentlemen unmarried which has provided delightful entertainment as they attempt to avoid being cornered by the young maids in attendance. It would seem Muriel is determined to find her son a wife. It would also seem Weatherington is on to her scheme. The gentlemen travel in pairs!
The most entertaining guest is Lady Philomena Preston, of course. I've never understood how a spinster of her age can continue to be the center of attention at every social gathering. She's here chaperoning her hellion of a niece, Lady Serena.
Just yesterday, Philly appeared dressed in a mustard-colored muslin day dress with large purple buttons down the center of her dress from her neck to her hem. The pièce de résistance was the garish purple swirl embroidery that graced said hem. While the dress was indeed something to behold, her bonnet upheld her love for the outrageous. A poke bonnet with yards of purple ribbon, yellow and purple flowers. In typical Philly fashion, a trio of the most monstrously long peacock feathers provided the dramatic flair the lady is known to flaunt.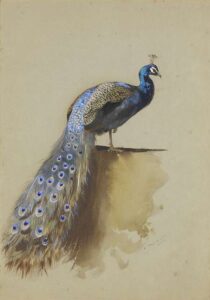 Genie, you may not remember but Weatherington does keep a flock of peafowl. All would have been well if Philly had not joined Lady Muriel for a stroll through the back gardens, the domain of said peafowl. All was well until a rather cantankerous peacock took notice of Philly, or rather of her bonnet. The fowl screamed a hideous screech.
Those of us following the two ladies stopped and watched in horror as the massive bird took flight. Have you ever seen a peacock fly? I found it most unsettling to see those wings move through the air. Only Philly can cause such calamity. The bird flew over her head and plucked the three feathers from her bonnet. Philly calmly swatted at the bird, pulled her de-feathered bonnet down on her head and  continued her walk. The woman is truly an eccentric.
Today, much in the demeanor of her aunt, Lady Serena demanded to join the gentlemen for a shooting competition. The young lady brought her own Manton pistols! Weatherington graciously agreed to her participation. To the amazement of all, she was the best shot and won a box of cigars which she promptly handed over to Philly! Do you think that lady smokes cigars?
We have another ten days here. I dare not imagine what the Preston ladies will do next, but I promise to write you at once to share their misbehaviors!
Your dearest friend, Lina
About Book One, Dangerous Pursuit
Lady Serena Preston leads a double life. Not the typical society miss, she dresses and acts the part with perfection, a flawless and unique spy for the Crown. Abandoned by her father and
brother as a 'useless' girl, Serena determined she would prove her value and skills of observation and detail. Now highly regarded by her peers, she's confident she can best any man in a game of
wits…that is until he returns to London. Richard is the only man she's ever loved, and the memory of his rejection still stings. Now delegated to work with him, she's determined to show him she's no longer the young girl he rebuffed. But can she put aside the past, ignore the familiar longing, and trust Richard with her life?
Viscount Richard Weatherington left England four years ago after quite the embarrassing episode with Serena. Now back in London, he expects she is over her infatuation now, perhaps even married. He never thought she'd be working for king's foremost spymaster, all grown up and using her beauty against French sympathizers. Now thrust together in pursuit of deadly
turncoats, Richard's respect grows as he watches her pragmatism and dedication to their mission. Daily he fights the incessant pull of attraction he feels for her while, frustratingly, she appears to be unaffected by him. But when she's captured, her life hanging in the balance, Richard vows to tell her he loves her—if she survives.
Dangerous Pursuit is on Kindle Unlimited or for purchase here
About Book Two, Dangerous Liaison
The Earl of Moreham has no interest in society seasons. Being known as a rake has helped him avoid such unsavory situations such as tedious receiving lines and pinch-faced bluestockings. He prefers the solitude of his work as a dedicated spymaster for the Crown. Unfortunately, his current investigation of a duke suspected of treason lands him in the middle of the upper crust crowd he avoids, complete with wearisome minuets and bothersome misses—one in particular who will not take no for an answer. One who he wishes he wasn't so drawn to.
Gillian Browning is the perfect definition of a Lady. She has manners and decorum, doing what she should, when she should. But as the niece of the Duke of Whitney, when she learns of a vile conspiracy to convict her uncle of treason, she will stop at nothing to prove his innocence—even insisting she help the arrogant agent search her uncle's bookroom to verify his lack of guilt. But when they find a coded note, Gillian is forced to admit her uncle is hiding something. Worse, when caught compromisingly alone, they are forced to marry. Now they must work together to find the truth, despite the mutual distrust that battles against their undeniable attraction.
When the note is decrypted, Moreham and Gillian are caught up in a conspiracy of murder, greed, and a secret that puts Gillian in grave danger. Can Moreham save a wife he's not sure he wanted, but one he's discovered he loves?
Dangerous Liaison is on Kindle Unlimited or for purchase here
About the Author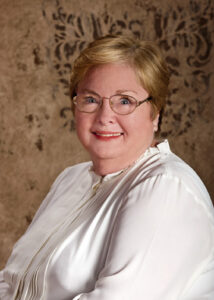 Ann Chaney is a nomad. In the last 36 years, she and her husband have moved eleven times. Her professional career included active duty service in the US Army for seven years and working 35 years in Human Resources and University Administration. She attended University of North Carolina at Greensboro.
In 2010, Ann began her writing journey by completing a collection of essays of her childhood memories before venturing into the world of Regency romance. Today, Ann writes historical romance novels set in Regency England in the early 19th century.  A member of Regency Fiction Writers, Ann is proud to support all authors of historical fiction. She enjoys researching the Regency era almost as much as she enjoys writing her characters' Happily Ever Afters.
In 2018, following the path of her first book, Dangerous Pursuit, Dangerous Liaison finaled in Kiss of Death's Daphne du Maurier Award for Excellence in Mystery & Suspense. Both books are part of her Lords of Whitehall series where gentlemen put honor and duty first until their world is turned upside down by equally determined and honorable ladies. Dangerous Illusions, the third and final book of the Lords of Whitehall Series will be released in January 2022.