Dearest Gentle Reader:
It should come as no surprise that the Black Widow of Whitehall has been known as a matchmaker… that is… if you can afford the price. Recently the winner of an unusual bet at her Lyon's Den, the Marquis of S was seen escorting a certain widow to the recent Hamilton affair. You must remember Mrs. H who has been the topic for many years in this very paper. She, among several of her lady friends, are a part of the Wicked Widow's Club and if the rumors spreading among the ton are true, then the Marquis is determined to see Mrs. H. is returned to polite society. But time will tell if he can perform such a miracle and if he does, you'll read it here first in your reliable Teatime Tattler!
Sincerely,
Samuel Clemens
Editor
---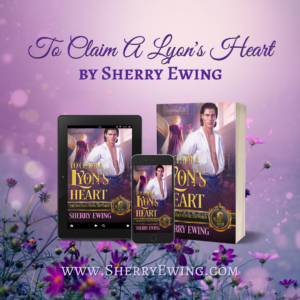 Bluestocking Belle Sherry Ewing's next release is entitled To Claim A Lyon's Heart which is part of the Lyon's Den Connected World. She, along with Belle Jude Knight, coordinated several scenes between their characters so Vincent and Moriah may look familiar if you've read her story The Talons of a Lyon. Read on for an excerpt from Sherry's story.
Excerpt:
She found herself on the gallery looking over the gentlemen who were already deep into their cups and placing their wagers. Soft music from a harp and violin came from the far end of the room filled with candlelight. Most of the tables were filled with eager men ready to place their bets.
Cassandra leaned over to whisper in Moriah's ear. "The table hosts, or dealers, are all men who are attracted to other men…"
"Interesting…" Moriah replied.
"And all have made-up names from Mrs. Dove-Lyon's favorite play, A Midsummer's Night Dream. This includes the bouncers and dealers."
Moriah burst out laughing. "Surely you're joking."
"You'll learn the ins and outs of the place quickly, depending on how long Mrs. Dove-Lyon takes to find the perfect man for you."
"Do you think he's really here, Cassie?" Moriah asked, almost holding her breath as her gaze swept the room. Her eyes traveled to one gentleman, and she almost dropped the wine glass she held in her hand. Moriah could hardly mistake the man who had watched her from a window of a neighboring house today. With the glaring sun, she highly doubted he had seen her clearly, but she certainly saw enough of him to know he had been utterly handsome.
His head bent forward as he perused his cards. A lock of his dark black hair fell rakishly over his forehead, giving Moriah the sudden urge to push back those silken locks from his face. From this distance, she couldn't tell, but she thought his eyes might be blue. He appeared perhaps a year or two older than her own one and thirty years of age. Long fingers held his cards close to the table edge, causing Moriah to wonder how his palms and fingertips would feel caressing her skin.
Her face flushed at the thought and Moriah moved back from the railing of the gallery. She wanted to hide behind the curtain, too, but that would only make her distress more obvious. Good heavens…had it really been that long since she had a man in her bed that a perfect stranger could elicit such sudden urges in her body? She stole another glance at him, and when her heart flipped end over end, she realized that it had indeed been that long.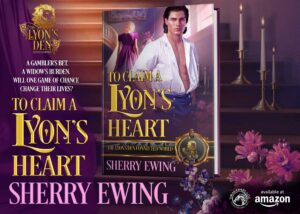 To Claim A Lyon's Heart
Lyon's Den Connected World
By Sherry Ewing
Release Date: June 21, 2023
Preorder for $0.99
 A gambler's bet. A widow's burden. Will one game of chance change their lives?
Vincent St. John, Marquis of Saxton, knows full well his duties to the duchy. His responsibilities have been drilled into him since his birth. He has no chance of finding a bride who will see him for who he truly is; they only see the title, not the man. A bet with Mrs. Dove-Lyon, the Black Widow of Whitehall, is just a diversion. Losing may win him everything.
Mrs. Moriah Henshaw has known her fair share of despair. The death of her parents and later her husband left her destitute with no option but to become a man's mistress. Years later, her tarnished reputation outweighs her excellent birth, and keeps her from being accepted back into society. When her friend pays an outrageous sum to Mrs. Dove-Lyon to find Moriah a husband, Moriah cannot believe she will win anything.
When Vincent meets Moriah, he becomes determined to return her to her rightful place in society. But one accident after another threatens Moriah's life, and neither of them will win in the game of love unless he can find out who is out to harm her.
Buy Links:
Amazon US: https://amzn.to/3LCaEKl
AU: https://amzn.to/3BbkWw3
BR: https://amzn.to/44JgpOO
CA: https://amzn.to/3M9odkL
DE: https://amzn.to/42iRgJe
ES: https://amzn.to/42CRx9I
FR: https://amzn.to/42ELD7V
IN: https://amzn.to/3O3fSkO
IT: https://amzn.to/3puOySj
JP: https://amzn.to/3M88J1n
MX: https://amzn.to/41iJ36x
NL: https://amzn.to/3M9GS0S
UK: https://amzn.to/44NinO8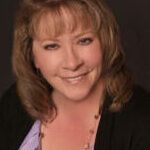 About the Author:
Sherry Ewing picked up her first historical romance when she was a teenager and has been hooked ever since. An award-winning and bestselling author, she writes historical and time travel romances to awaken the soul one heart at a time. When not writing, she can be found in the San Francisco area at her day job as an Information Technology Specialist. You can learn more about Sherry and her books on her website where a new adventure awaits you on every page at www.SherryEwing.com.
Social Media Links:
Website & Books: www.SherryEwing.com
Bluestocking Belles: http://bluestockingbelles.net/
Amazon Author Page: https://amzn.to/33xwYhE
Bookbub: https://www.bookbub.com/authors/sherry-ewing
Facebook: https://www.Facebook.com/SherryEwingAuthor
Goodreads: https://www.goodreads.com/goodreadscomsherry_ewing
Instagram: https://instagram.com/sherry.ewing
Pinterest: http://www.Pinterest.com/SherryLEwing
TikTok: https://www.tiktok.com/@sherryewingauthor
Tumblr: https://sherryewing.tumblr.com/
Twitter: https://www.Twitter.com/Sherry_Ewing
YouTube: http://www.youtube.com/SherryEwingauthor
Sign Me Up!
Newsletter: http://bit.ly/2vGrqQM
Street Team: https://www.facebook.com/groups/799623313455472/
Facebook Official Fan page: https://www.facebook.com/groups/356905935241836/