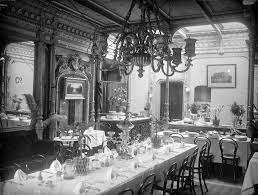 Dear Readers, we offer today, a titillating story impossible to keep quiet. It seems that Sir Henry was travelling from England via the newly launched SS Great Eastern luxury liner to attend a business conference in New York City. Lady Brisson was not accompanying him; however, installed in a separate cabin, his previously unknown British mistress Caroline was!
As per the ship's custom, strangers were seated together at a large table in the dining salon permitting the two secret lovers, presumably unacquainted, to dine together. By the sixth day of the ocean crossing, members of the group knew each other and it was not considered unusual for the two of them to be seen promenading around the ship.
It was a lovely night with a full moon when Sir Henry and Caroline excused themselves from the dinner table to take in the air. While strolling on deck enjoying the warm breeze and star filled sky, they passed a lifeboat undergoing some sort of upgrading or repair.
Not to be dissuaded from a chance for adventure, they looked at each other and said, "Why don't we check out the inside? What an opportunity! How can we resist?"
Climbing on board, carrying their evening's second bottle of wine, they proceeded to take advantage of the unusual locale. The risk that someone enjoying an evening walk might pass by and spy on their activities just added to the excitement!
But totally unexpected was their discovery in flagrante delicto by four workmen when they showed up to check on their repairs. After quickly reassembling themselves, the lovers beat a hasty retreat. Although they were spared further embarrassment by bumping into the workers during the rest of the trip, the incident had supplied a titillating story for the entire ship's crew; a crew who talked!
This tawdry affair comes at a particularly awkward time as the Brisson's eldest daughter Louise is about to marry the Rev. John McMichael, a staunch Church of England minister who is rector at St. Clements Anglican Church in London. Will the marriage take place? Will Lady Brisson throw Sir Henry out of their Kensington Gardens estate or will she forgive him?
Watch this space for more, as information becomes available.
About the book: Get ready to experience a roller coaster ride of emotions!
Laughter, sadness, empathy, outrage. Canadian Anne Hamilton Fowler appeared to have it all. However, life is not always as idyllic as it seems and at age twenty a series of events almost destroyed her. Emerging from the wreckage she reinvented herself, started over, and proceeded to live on the edge with a risk-taking lifestyle. Then in 1993, an event experienced during a trip to Central America changed everything.
"I've Worn Many Hats" is an inspirational read that demonstrates our human frailties, one's ability to survive personal adversity, and how we can learn to forgive both ourselves and others. It is a story of redemption.
Anne Fowler is a retired Canadian who divides the year between her Haliburton summer cottage and Central America. This memoir is her first book and all proceeds will go to support Anne's ongoing humanitarian work in Honduras.