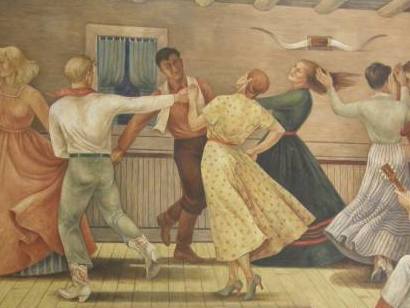 Lorraine Stuart reporting from Tarnation, Texas direct to Mr. Clemens at the Teatime Tattler:
Your correspondent was fortunate to attend a festive evening at the luxurious home of Mrs. L. Harrison, young widow of famed United States Army soldier Col. William Harrison. As one might expect at this ball, ladies presented a rainbow of lovely gowns.
Foremost was Mrs. Harrison herself, who led fashion in a lavender silk gown trimmed in white Valencia lace. Mrs. V. H., wife of J.H., looked lovely in mauve gros grain accented by white point lace. Newcomer C. B. wore blue poult de soie trimmed in darker blue embroidery.
After twirling across the floor in the slightly scandalous waltz, Miss O. S. was seen strolling to the balcony in the company of E. K. for a secluded tête–à–tête. Do we hear wedding bells? Miss J. N. danced repeatedly with M. B. and love's light also danced in her eyes—in spite of her vow not to wed. Was there a spat between Miss R. R. and Z. E? Your correspondent was not privileged to hear the words spoken, but there appears to be trouble on the horizon for this couple. Mr. G. P. took an unfortunate tumble to his knees and sat out the remainder of the ball.
Return next week, dear readers, when you correspondent will report on the opera house appearance of famed singer Geraldine Chitwood.
~~~~
The small, dusty town of Tarnation, Texas is suffering. There are no single women and young men are moving to more diversely populated towns. Lydia Harrison is a young widow who wants her town to prosper and grow. She travels back East to recruit suitable young women to come to Tarnation and live with her until they choose the man they wish to marry. To help, she holds receptions and dances where the seven young women can meet fifteen respectable men under properly chaperoned conditions. People in town have labeled these young women the Bride Brigade. Ophelia is a painfully shy, gentle woman who suffered severe beatings from her overbearing father before she escaped with the help of her friend, Josephine Nailor, also one of the seven women.
OPHELIA, Bride Brigade book 4:
A painful past…
A desperate escape…
A hope for the future…
Ophelia Shipp wants safety, a home, a kind husband, and to raise a family. To achieve her goal, she travels halfway across the country to tiny Tarnation, Texas.  What awaits her there must be better than what she left. She longs for a respectable man who will treasure his wife and never raise his hand to her.
Elias Kendrick had a difficult childhood but has overcome poverty and shame to build his empire in Tarnation. Now that he owns a successful saloon, the opera house, and his home, he is ready to marry and start a family. He's vowed his children's life will be different from his—if only he can find the right woman.
Two opposites attract—or are they? Ophelia and Elias must learn to overlook their superficial differences and work out their chance at lasting love.
Excerpt from Ophelia
Here is an excerpt from OPHELIA at the first reception for the men and women to mingle. After greeting the fifteen men in a receiving line, shy Ophelia has chosen a seat at the side to watch others:
Mr. Kendrick strolled toward her holding a cup and a plate filled with samples of Mrs. Murphy's delicacies. "You look as if you could use punch and a snack."
She fought for something clever to say, but nothing came. At least she managed a smile. "Thank you. I am thirsty after introducing myself so many times."
He sat in the chair separated from hers by a small table. "Nice shindig, isn't it?"
She admired his ability to appear so at ease. She took a sip of punch before answering, "I love watching and listening. Everyone appears so happy and excited."
"What about you? Are you happy or excited?"
She couldn't prevent a grin. "Both. Being in Mrs. Harrison's home is so pleasant and the other women are very nice. This morning I woke up excited about this event."
"Me, too." He chuckled, sending light dancing in his brown eyes. "What brings you to Tarnation, Miss Shipp?"
"Same as the others I suppose. No point pretending otherwise, I want a kind husband, a secure home, and children. This appears to be a nice town even though it's small. I notice there's even an opera house."
"That there is. I built the opera house only a year ago. The manager and I try for a variety of acts so that by the end of the season, everyone has enjoyed at least a couple of shows."
She leaned forward, happy to know he was so fair-minded. "I'm sure I'll enjoy them all. I've never been to a live performance." Oops, she hadn't intended to admit that.
He leaned back and his eyes widened. "Never? You mean except at school, of course."
A blush's heat seared her face. How embarrassing to admit she was a country bumpkin who had done nothing interesting in her entire life. "My father was very strict. I couldn't appear in or attend school plays. Mr. Kozlov has invited me to the opera house performance in two weeks. I'm looking forward to the event."
Was that disappointment she saw on his face? "You'll enjoy Geraldine Chitwood. We were exceptionally fortunate to book her. Normally, she only plays larger towns more easily reached. Being without railway access places us at a disadvantage."
She had to restrain herself from rubbing her rear. "Oh, my bones haven't forgotten that stage ride." She leaned toward him. "Tell me about yourself, Mr. Kendrick. Besides owning the opera house, I mean."
"I'm twenty-nine and never married." He took a deep breath and averted his gaze before he spoke.  "If you led such a quiet life that you weren't allowed to attend plays, then you'll no doubt look down on me because, as well as the opera house, I own the local saloon."
She hoped she hid her surprise that Lydia had included a saloon owner in this group of "acceptable" men. What should she say?
Trying for the truth, she said, "I try never to pass judgment, Mr. Kendrick. I don't approve of drunkenness but I know most men enjoy meeting with others and sharing a drink or game of cards."
He raised his eyebrows. "Very broad-minded of you. Do you play cards, Miss Shipp?"
She couldn't help laughing. "I don't play anything. All I've ever done is work."
~~~~~~~~
Caroline Clemmons is an Amazon bestselling and award winning author of American-set Victorian historical and contemporary western romances. A frequent speaker at conferences and seminars, she has taught workshops on characterization, point of view, and layering a novel.
Caroline and her husband live in the heart of Texas cowboy country with their menagerie of rescued pets. When she's not indulging her passion for writing, Caroline enjoys time with family, reading, travel, antiquing, genealogy, and getting together with friends. Find her on her blog, website, Facebook, Twitter, Goodreads, Google+, Pinterest, and her books at her Amazon Author Page.
Subscribe to her newsletter here to receive a FREE novella of HAPPY IS THE BRIDE.
Caroline loves to hear from readers at caroline@carolineclemmons.com