Every day in London's streets, women of all ilk sell their bodies to earn enough to live and survive. Prostitution is no secret; it is a thriving business. Like all businesses, there are those who profit and those who toil. Equally so, every year in the glittering ballrooms of the marriage mart, young women are sold to the highest bidder for money and power. Here also, there are those who profit from the bodies and lives of their women.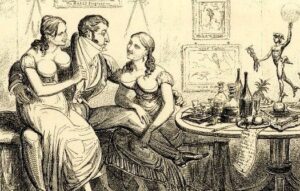 So, it may come as no surprise that London has a new hero from this set. A vigilante who rescues young girls who have become tangled in the web of sex and excesses. She rescued a young girl from a prominent brothel run by Mrs. G two weeks ago. Brandishing her slim deadly blade, she snatched away the girl who had been sold to the brothel owner by her drunk of a father.
Then our vigilante struck again last weekend at an infamous bacchanal, which is thrown annually by Lord D. Yes, all the rumors you have heard are true. The party is as debauched as Lord D's dark heart. Free-flowing wine and liquor, and anonymity provided by the masks fuel an atmosphere of immoral behavior. This night of excess was topped off by an auction, where the highest bidder would get to deflower a genuine virgin.
Don't worry, dear reader, our vigilante swooped in and rescued the poor farm girl, stolen from her family by Mrs. G to serve as the virgin sacrifice. Yes, our vigilante is no ordinary woman. She is fearless, passionate, a LADY of great heart. I will wait alongside you, breathlessly, to see where she will strike next.
About the Book: Unmask My Heart
Caroline Langdon has gained a reputation for being unattainable; she has turned down twelve offers of marriage over the past four years. A traumatic incident from her past has convinced her she never wants to belong to any man. Her plan to live as a wealthy spinster is tested when she meets the enigmatic Lord Wrotham.
For his new assignment for the crown, Cage Morgan must slip into the one role he's never wanted, his title as the Earl of Wrotham. Lady Caroline is in grave danger. His job is to watch over her and investigate which of her jilted suitors wants her dead. But keeping tabs on the clever and fiery lady will prove to be challenging. And ignoring the attraction that flares between them impossible.
Will a daring rescue and a fake engagement lead two guarded hearts to take a risk on a passionate love neither of them thought imaginable?
 Excerpt:
"You can never trust a newspaperman." Cage commented.
"Well, in this case, because the editor is a woman, I thought I could." Clearly a mistake. Of course, a woman whose paper survives on its gossip column would choose the most sensational bits. Caroline grudgingly admired the editor's cleverness. She glanced down at the article in her hand. "She does paint a flattering picture of me. Fierce and passionate. I almost wish people knew she was talking about me." She took another swallow of wine. "I am tired of everyone talking behind my back about being an ice queen. I'm not frigid," she muttered.
"Who had the gall to say you were frigid?"
Caroline couldn't believe she had said that out loud. Her cheeks warmed and not because of the wine. He was the one man who made her feel the opposite of frigid. He made her want things that she had given up ever feeling again. She set down her empty wine glass on the windowsill.
Cage took one finger and lifted her chin until her gaze met his. "You are the most passionate woman I have ever known. Anyone who thinks otherwise is a blind fool." The heat in his eyes almost had her believing his statement. He lowered his mouth to hers, brushing her lips once, twice.
Caroline sighed at the pleasure of his kiss. He wrapped an arm around her waist and pulled her against him. Nibbling at her bottom lip, he pulled her under his spell. She parted her lips to welcome his exploration. His tongue swept in to play with hers, slick and hot. She grabbed hold of the lapels of his jacket as the world around them melted away.
"Caroline, your fire consumes me." He kissed across her cheek and up to her temple. "You haunt my nights. I want to discover every inch of you with my tongue, my lips. I want you to burn me alive."
His words emboldened her. Caroline slid her hand into his hair and pulled his head back enough for their eyes to meet. "Show me."
About the Author
From the time she read fairytales as a child, Karla Kratovil was hooked on stories that ended in Happily Ever After. Now as an author of sexy historical romance she gets to craft her own happy endings. Karla lives right on the edge of Northern Virginia's wine country with her college sweetheart, two terrific teenagers, and two blond terriers. She is a Taurus. Like any good earth sign she loves good food, good wine, and getting her hands dirty growing things in her garden.
To keep in touch, sign up for her newsletter on her website – www.karlakratovil.com
Instagram- https://www.instagram.com/karla.kratovil
Facebook- https://www.facebook.com/karlakratovilauthor
Pinterest – https://www.pinterest.com/daylilymama
Twitter- https://www.twitter.com/karla_kratovil
Goodreads: https://www.goodreads.com/…/show/19952463.Karla_Kratovil
Bookbub: https://www.bookbub.com/profile/karla-kratovil