Long known as the game of love, chess had worked its spell again. Guests at Lady Osbourne's November house party assure us that a certain very proper earl and a lady deep-dyed and scandal spent much time over the board, and now they are betrothed.
We have to ask what this generation of the Belvoir family is coming to. Known for their deep roots in the English aristocracy, their sobriety their prudence, their good name. Eight hundred years since the first Belvoir was raised to the nobility. Eight hundred yearswithout a touch of scandal. Now the three children of this generation have all chosen—shall we say 'unlikely' life partners? And in unusual circumstances.
First, Lady S., widowed twice before she could be wed, settled in spinsterhood (or so we thought) runs away from a houseparty with none other than the Merry Marquis AND HIS BROTHER, and was married to the Earl of S. before sunset the following day. The Earl of S., as readers will recall, was an unlikely choice, being the son of Duke of W. and his Persian wife. This was months before the Committee of Privileges ruled that the young man's parents were validly married. What, we wondered at the time, was the Earl of H. thinking, allowing his sister to marry a man of mixed blood whose parents' marriage was in question? Though it all turned out in the end.
Second, Lady J., belle, beauty and bluestocking. The youngest of the three Belvoirs seemed settled as her brother's hostess and chatelain of whatever house his current diplomatic post required. Then along came Lord J. M. Rakehell. Rogue. Possible card-shark. Known dilettante. Suspected duelist. How did their two worlds even touch? And what did the lady see in rogue? Again, the Earl of H. allowed the match. Colour us mystified. And yet… Lord J. M. is a reformed man, a family man, a devoted husband with eyes for no-one but his wife.
Third, and most surprising of all, the Earl of H. had met, romanced, and married Miss A. F-H., who was abducted from the altar before the eyes of the minister, her groom, and all the congregation, and disappeared from sight for years. Where did she spend these years? Nobody knows, unless she has told the Earl of H.
Ladies and gentlemen all, such matches are not to be held up as examples. It seems, against all the odds, that these couples are happy, an outcome on which no wise person would have wagered. It stands to reason, that they have used up all the luck. The next outrageous match is sure to be a dire failure.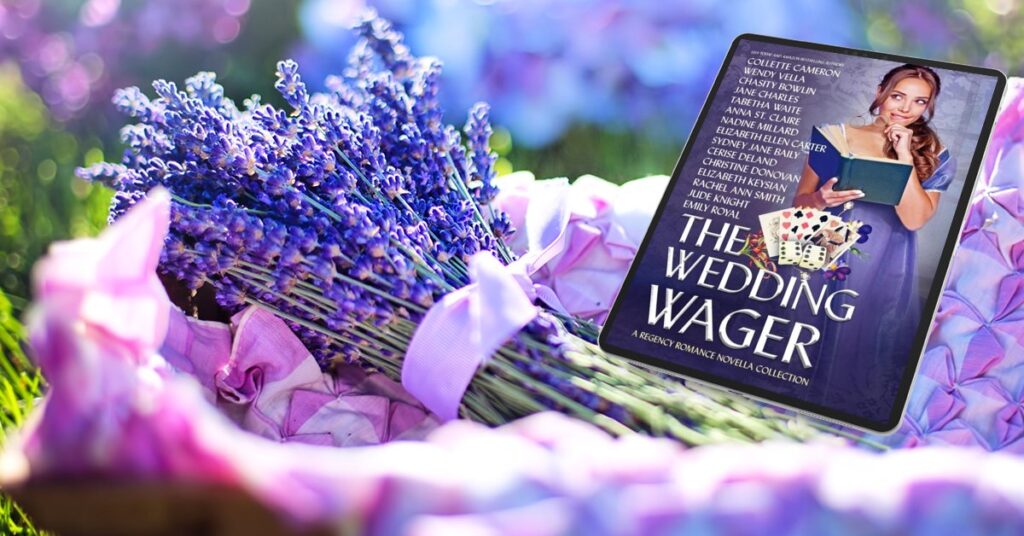 The Husband Gamble in The Wedding Wager
When the pawn becomes Queen, she and the opposing King will both win the game of love
Rilla and Hythe write one another off as all wrong, but when they are drawn together at the countess's house party, they discover how right such a match could be.
The Wedding Wager
Can Lady Osbourne produce at least one "miracle" match every month for a year and win the wager with her cousin? In fifteen sparkling novellas, fifteen of superb historical romance authors bring their notoriously unmarriageable heroes and heroines to a house party in search of the answer.
Introductory price only 99c