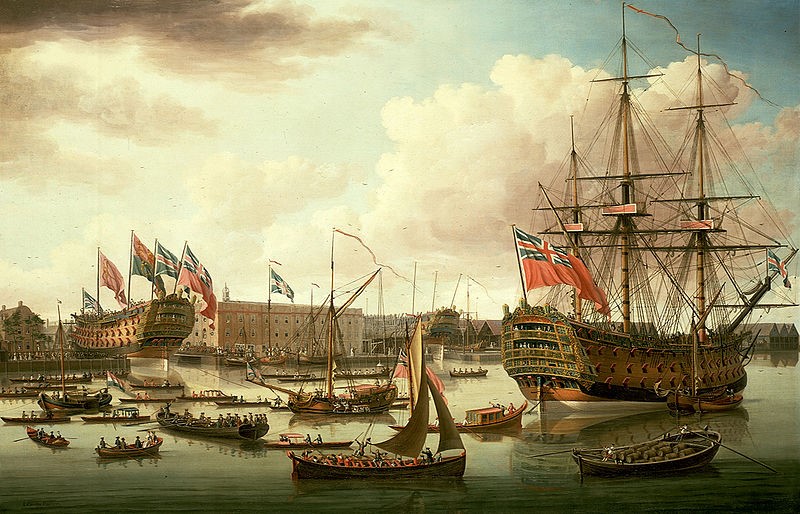 In a shocking turn of events, we have discovered that the young heir to the Gardiner textile empire has departed London on a ship bound to parts far distant, and in the company of a man thought to be an agent of the King!
Yes, if reports are to be believed, it is true. Whilst most of the Ton would not socialize with the merchant-class Gardiners, their influence in London's society cannot be neglected, for they dress the elite, and whatever fine fabrics Gardiner brings into his warehouses are sure to be the latest fashion amongst those who set the mode for the coming season.  Not a duke or earl in Town has not been seen gracing the showrooms at Gardiner's warehouse, choosing the finest cloth England has to offer for his wife, daughter, or unnamed female companion.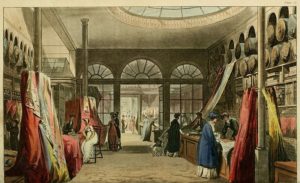 But now, our sources reveal, young Edward Gardiner has absconded with little warning on a ship bound for the colonies, a ship owned by none other than George Darcy, whose influence is felt at the highest levels of Society.  Furthermore, Gardiner was reportedly joined by a gentleman whose name we dare not print, but who has been known to be part of His Majesty's intimate circle, and who has been rumoured to be in possession of the King's confidence—and perhaps employ—for matters clandestine and of importance to the Realm.
The questions this unlikely happening raises are many. Does this sudden departure have anything to do with a near-fatal accident in the vicinity of Gardiner Warehouses just last week? Is it related at all to the recent disappearance of Gardiner's young assistant, whose mathematical prowess has tongues wagging across London? Or to the fate of a young lady from the north whose name has been whispered in the same breath as Gardiners? Or is there any connection with the rumours that this same lady's brother, long thought missing, has been found in Nova Scotia—the exact destination of Darcy's ship?
One matter is certain, however: the Gardiners might be deemed below the Ton in terms of social standing and place in life, but they keep company many of their betters would fall over themselves to enjoy. Perhaps there is more to the Gardiners' empire than mere fabric!
Excerpt from The Assistant
Sherrington now stood and moved to look out the window. "My local informants tell me that a ship left London's harbour this morning, bound for the colonies. If Grant hoped to send any directives, they would be in a letter on that ship." Edward jerked upright and staggered to the fireplace. Sherrington still spoke. "My informants tell me further that a young lad begged passage on that ship moments before it sailed. This young lad matched the description of your assistant."
Now Edward had stopped all motion and was staring at Sherrington, scarcely able to breathe. "You don't mean—?" he began.
The older man nodded. "Yes, I do. It seems, in all likelihood, that your brave young assistant has taken it upon himself to gallivant off to the wilds of Nova Scotia to rescue his friend."
James Gardiner now addressed his friend. "Jeremiah, what can this mean? Would the boy really do such a thing? He did not seem the adventurous sort."
"Perhaps not, James, or not under normal circumstances. But recollect: people will go to great lengths to protect those they love. I recall, just this morning, a certain young man willing to sell his soul to protect the woman he loves."
Edward blushed, desperately hoping his father's eyes were directed elsewhere. When he felt himself able to speak steadily, he ventured to ask, "And what of Miss Grant? Did she travel with him?"
"That I cannot ascertain. My informants did not hear talk of a lady, but she may have gone on ahead, or come later. There were, perhaps a few too many trunks for a lone youth, but more than that I cannot say."
"So what are we able to do? What are our choices? Certainly we must act!"
"Yes, we must. And act we shall. My friend Darcy—you must have heard me speak of him, have you not, James? Big landowner up in Derbyshire—has interest in a ship leaving next week, taking farmers and tea and hoping to bring back timber and furs. There can be a cabin available if you wish it."
"What?" Edward had not expected this. "Return to Nova Scotia? I never believed I would make that journey again."
"Do you not wish it? The ship is destined for Saint John, in New Brunswick, but will stop in at Halifax Harbour to let you off. Darcy is a powerful man and can make this so."
Both Gardiners stared at him. It was James who eventually spoke. "By gum, that's quite the claim. Do you know what that extra port of call would cost?"
"Yes, James. But it's Darcy's ship, and as Edward knows, he is as eager to see an end to Grant's machinations as any of us. Are you in, son?"
Edward looked to his father for some sort of response, not certain whether he was hoping for permission or denial. Sherrington nodded once, and James turned to Edward. "Go. Go and save your young woman."
"Thank you. Both of you," Edward stated as he turned to leave the room. Before he moved through the doorway, however, Sherrington proclaimed, "I shall make the arrangements and call for you at first light on Monday of next week. If the ship's planned departure changes, I will let you know. I have long since wished to see Halifax."
"You… you are coming as well?" Edward turned in the door and gaped at his friend.
Sherrington smiled. "This is an adventure I would not miss for the world!" Then, "James, I would love a game of chess and cup of tea. Might that be arranged?"
The Assistant
A tale of love, secrets, and adventure across the ocean
When textile merchant Edward Gardiner rescues an injured youth, he has no notion that this simple act of kindness will change his life. The boy is bright and has a gift for numbers that soon makes him a valued assistant and part of the Gardiners' business, but he also has secrets and a set of unusual acquaintances. When he introduces Edward to his sparkling and unconventional friend, Miss Grant, Edward finds himself falling in love.
But who is this enigmatic woman who so quickly finds her way to Edward's heart? Do the deep secrets she refuses to reveal have anything to do with the appearance of a sinister stranger, or with the rumours of a missing heir to a northern estate? As danger mounts, Edward must find the answers in order to save the woman who has bewitched him . . . but the answers themselves may destroy all his hopes.
Set against the background of Jane Austen's London, this Pride and Prejudice prequel casts us into the world of Elizabeth Bennet's beloved Aunt and Uncle Gardiner. Their unlikely tale takes the reader from the woods of Derbyshire, to the ballrooms of London, to the shores of Nova Scotia. With so much at stake, can they find their Happily Ever After?
About the Author
Riana Everly was born in South Africa, but has called Canada home since she was eight years old. She has a Master's degree in Medieval Studies and is trained as a classical musician, specialising in Baroque and early Classical music. She first encountered Jane Austen when her father handed her a copy of Emma at age 11, and has never looked back.
Riana now lives in Toronto with her family. When she is not writing, she can often be found playing string quartets with friends, biking around the beautiful province of Ontario with her husband, trying to improve her photography, thinking about what to make for dinner, and, of course, reading!
Links
Universal book link: https://www.books2read.com/theassistant
If you want store-specific links for Amazon, they are as follows.
Amazon US: https://www.amazon.com/Assistant-Before-Pride-Prejudice-ebook/dp/B07B3NFMQ4
Amazon Canada: https://www.amazon.ca/Assistant-Before-Pride-Prejudice-ebook/dp/B07B3NFMQ4
Amazon UK: https://www.amazon.co.uk/Assistant-Before-Pride-Prejudice-ebook/dp/B07B3NFMQ4/
Social Media Links
Facebook – https://www.facebook.com/RianaEverly
Website – https://rianaeverly.com/
Twitter – @RianaEverly