Have the Winderfield twins fallen at last from Society's highest pedestal? Or, were they undeserving of such regard from the first?
Dear reader, your faithful correspondent has known the two beauties since their debut. They have always been the focus of attention, being nieces of the current Duke of Winshire and daughters of the heir to that esteemed title, the current duke's elder brother, until his untimely death.
Perhaps, like many, you have admired their poise through the many illnesses and tragedies that haunted their young lives and prevented them from enjoying to the full the success destined for two of such high birth and beauty.
Or perhaps, like others, you have wondered why two ladies with so many advantages have turned their faces steadfastly against marriage, that high and holy goal of all proper women.
Let us reprise what is known. They were to make their debut a year late, after a mysterious illness that apparently struck them both and kept them immured in the country when they should have been making their curtsey to the Queen and to Society. However, their brother's untimely death sent them both into mourning and back into the country.
The following year, even though they were nearly nineteen, they were immediately hailed as the Beauties of the Season. Indeed, Lady Sarah Winderfield was dubbed the Winderfield Diamond. The Earl of Sutton was swamped with applications from prospective suitors, some of them from gentlemen of high rank and great fortune. Alas. The ladies refused all offers, and would not be shifted from their resolve.
The Diamond continued to sparkle at Society's entertainments, but Lady Charlotte Winderfield's interests were more philanthropic, and her undertakings won her the sobriquet 'the Saint'. Perhaps, said the men of Society–for many were desirous of possessing such lovely beings to ornament their lives–they need a year to enjoy themselves before giving themselves into the care of a husband, and settling into motherhood and the loving service of a wife. Certainly, the duke their grandfather made it very clear that he would not tolerate another year of refusals. If they would not choose, he declared to close associates, he would do it for them.
A number of gentlemen resolved to court the lovely ladies (or at least their grandfather) the following year. Their hopes were dashed when their father's death put them back into mourning.
Which brings us to 1812, when their notorious uncle returned from the mysterious lands north of Persia, where he had apparently married and fathered ten children. With the duke bedridden and dying, it was to the uncle that all suitors applied, only to be told that the ladies were not interested in marriage.
For the past two years, even after becoming duke in his turn, he has continued to support his nieces rebellion against the proper order. Perhaps, some of us speculated, he knew of secrets in their past that had left them unfit for marriage?
And now, it appears, the Diamond has lost her luster, the Saint shows feet of clay.
Let us consider Lady Sarah, first. For the past few days, she has been seen much in the company of Viscount Bentham, heir to the Earl of Sutton. You will remember that Bentham has been lost for seven years and only recently recovered. You may not, however, have had the opportunity to notice the resemblance between Bentham's little half-sister and the boy that Lady Sarah has taken as her ward. A boy who is believed to be a Winderfield by-blow, and who was born six years ago, around nine months after Bentham's disappearance and at the time Lady Sarah was in the country with that mysterious illness mentioned above.
Coincidence? We shall see.
As for Lady Charlotte, reputable witnesses saw her visit Aldridge at his home late at night. Yes, dear readers, the Merry Marquis himself. Within half an hour of her arrival, they left in a carriage, and were gone all night. Some say they were carousing in the slums. Certainly, they did not return to the Winshire mansion until after the cock crowed and the sun rose.
How can one put an innocent interpretation on that?
To Claim the Long-Lost Lover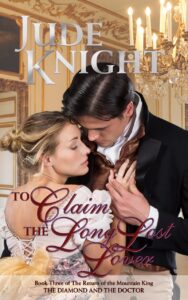 The beauty known as the Winderfield Diamond hides a ruinous secret. Society's newest viscount holds the key.
Sarah's beloved abandoned her eight years ago, leaving her to face the anger of her family and worse. And now he is back, more compelling than ever. Sarah is even lovelier than when she was a girl, but what did she know about her father's revenge on Nate: forcible enlistment into the navy and years of servitude?
Book 3 of The Return of the Mountain King
New release
Buy Links
Amazon US  * Other links on Books2Read  *  Jude Knight's book page
To Tame the Wild Rake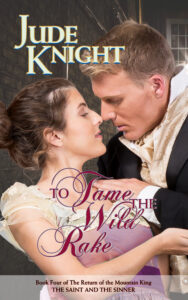 The whole world knows Aldridge is a wicked sinner. They used to be right.
The ton has labelled Charlotte a saint for her virtue and good works. They don't know the ruinous secret she hides.
Then an implacable enemy reveals all. The past that haunts them wounds their nearest relatives and turns any hope of a future to ashes.
Must they choose between family and one another?
Book 4 of The Return of the Mountain King
Released 17 September
Buy Links
Amazon US * Other links at Books2Read *  Jude Knight's book page