Dearest Maria,
I simply had to write to tell you the most unbelievable news. It is so outrageous I almost cannot bring myself to reveal it.  I hope you are seated because here it comes, Mrs Florence Beaufort (previously Miss Thackeray) has appeared back in Wellington after twenty years!
I can imagine your expression of surprise when you read this, I mean, the gall of the woman showing herself here after everything she did. You will not believe it, but she was shopping on Lambton Quay as proud as you like as if she had every right to be there.
Then, hark this; she had the audacity to insult not only me, but my poor dear departed mother. That woman's arrogance knows no bounds. I, of course, kept a civil tongue in my head and asked after her husband Dr Beaufort—the man she stole from me. She informs me he is dead. Yes, I know, dead. It seems she has a propensity for killing off her husbands.
Then, she proceeds to tell me that she is perfectly content as a widow as if poor Dr Beaufort meant nothing to her. I was as shocked as I could possibly be.
I must add that the years have not been kind to her. She is still slender, I suppose, and her hair has not yet turned from its shameless shade of copper to distinguished silver as mine has, but I distinctly noticed lines had formed around her eyes and the heavy black of her mourning dress did nothing for her complexion.
It is bad enough we are forced to endure her dreadful brother with his shameless flaunting of his Māori wife and half-caste children around the town, but now we must also tolerate the presence of that fiancé-stealing Jezebel amongst us.
Mark my words, I will ensure everyone in the town is aware of her sordid past and knows to treat her with the disdain she deserves.  She will not receive invitations from anyone of any worth if I have anything to say about it.
Anyway, I had better sign off now as I must spread the word before she is able to use her airs and graces to ingratiate herself with the unwitting members of our community.
Best wishes to you and your family
Adelia Dorrington
Excerpt from A Pivotal Right, Book Two in the Shaking the Tree Trilogy
Auckland, New Zealand
1874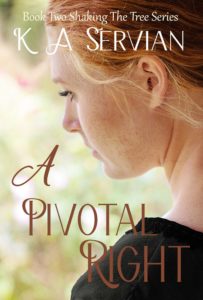 "Mama, Mama." Soft tapping on the back of Florence's hand brought her rushing back from a black void. She opened her eyes to find her daughter's face hovering above her.
"You fainted, Mama. I think you may have hurt your head on the floor."
Florence's vision swam alarmingly. "I must be losing my mind. I could have sworn I saw—" She swallowed. "No, it couldn't have been."
"Saw what?"
"Nothing." She closed her eyes to try to ease the throbbing pain that was building at the back of her skull. "It is impossible."
"Liam, bring a couple of blankets from the store room." The voice so familiar and yet so unexpected cleaved her mind, sending shockwaves through her.
Florence gripped her daughter's hand as her heart lurched violently inside her chest and she feared she would faint again. "I can hear—" She wanted to say, a ghost, but stopped herself. Viola would think her mad. How hard had she hit her head?
A shadow fell across her and she looked up straight into the eyes of a dead man. Blinking, she attempted to clear the spectre, but it would not vanish. Jack had visited her in her dreams many times over the years, but never when she was awake.
There were only two possibilities—either she had lost her mind or she was dead—but no lifeless heart could race the way hers was racing now.
"Am I insane?" she asked the vision of her long-dead husband.
Amazon: https://www.amazon.com/Pivotal-Right-Shaking-Tree-Book-ebook/dp/B07FY1BCLQ/
Bio for K A Servian
As a life-long creative, Kathy gained qualifications in fashion design, applied design to fabric and jewellery making and enjoyed a twenty-year career in the fashion and applied arts industries as a pattern maker, designer and owner of her own clothing and jewellery labels.
Her first novel, Peak Hill was a finalist in the Romance Writers of New Zealand Pacific Hearts Full Manuscript contest in 2016. She has also published a romantic suspense novel tilted Throwing Light and her short story, Seeing Him Again for the First Time won the Romance Writers of New Zealand Chapter Short Story contest for 2018.
Never one to do things by half, Kathy creates her own covers and has made and photographed the costumes for the covers of her Shaking the Tree trilogy of historical novels: The Moral Compass (2017), A Pivotal Right (2018), and Slaves in Petticoats (due out in 2019).
She has made and photographed costumes from various periods ranging from Regency to early twentieth century. Images are available for purchase on Shutterstock https://www.shutterstock.com/g/kathysg.
Kathy has completed a diploma in advanced creative writing. She works fulltime as a writer squeezing it in around teaching the occasional sewing class and being a wife and mother. You can follow Kathy on her website https://kaservian.com/ or Facebook page https://www.facebook.com/KAServian/.