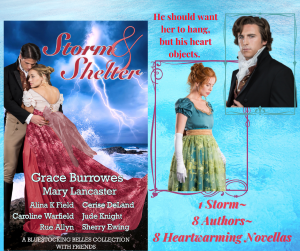 Dateline late March
Gentle Readers,
To protect our reporter from reprisals, we dare not reveal the source of the conversation related below. However, we can tell you that our intrepid employee is safely away from Stonegreave Priory, where the conversation occurred and is hot on the trail of the nefarious person under the protection of Her Grace of S.
"My dear Marielle, you cannot possibly expect me to chaperone a person you yourself suspect of underhanded dealings and lax morality." Miss Verity Walford protested.
"Verity, I understand your reluctance." Her Grace handed her friend and protégé a cup of tea. "However, I owe this young woman a debt of gratitude. Her quick thinking saved my life and others when Richard and I were at Fontainbleau last April to rescue my cousin." The duchess grimaced and pressed a hand to her swollen belly.
Verity put her tea aside. "Are you well? Should I call for the doctor? Richard?"
"No, thank you." Her Grace released a long breath. "It is just the baby kicking. He or she delights in disturbing my peace at every opportunity, and I understand this is just the beginning. Disturbed peace is normal, I hear, when a household includes children."
"If you say all is well, I believe you. You've never been a fool about your health." Verity sipped her tea. "As for children and lack of peace, being an only child and a spinster, I could not say."
"And I would not expect it of you, although I do hope someday you will find the kind of love Richard and I have."
"The two of you are to be envied."
Her Grace picked up her cup and took a cautious sip. "Quite possibly, but we owe our lives and our happiness to the young woman I wish you to chaperone. Esme is quite unusual, and I suspect you would be best off not to question her too deeply about her actions or her background."
"Such a warning makes me even more reluctant to do this little favor for you."
The duchess leaned forward and took Verity's hand. "You must. It is obvious that in my condition I cannot, and were I not enceinte, I would not cause Richard to worry by attempting to aid Esme. If you cannot, I will have to hire a stranger, whom I could not possibly trust as much as you."
"Very well, since I've nothing of import on my calendar for the next two months, I will help you."
"Excellent." Her Grace's face glowed. "She'll be traveling under the name Eugenia Fynlock and will meet you at The Queen's Barque Inn of Fenwick on Sea."
Verity's brows rose. "Why such a backwater? Won't two strange women draw attention in such a place?"
"I cannot say why that particular inn and town were chosen, but that is the information I received. I will cover your expenses, of course, and provide you with transport both to and from Fenwick on Sea. You'll be bringing Esme back to me for a visit."
"Then I hope I like this unusual young woman. Sharing a room with a stranger for three or four days is stressful enough. Add in a journey of the time from here to the coast, and we would both be miserable, if we cannot become friends."
"Even if you cannot like her tremendously as I do," the duchess said. "You will find her highly entertaining. Now ring for a maid, please. I find I tire easily and need a nap before dinner."
"Certainly." Miss Walford put action to words then returned to her seat. "When do you think I should leave for Fenwick on Sea?"
"Within the week. As long as the winds are favorable, Esme expects to arrive at the village no later than March 31st."
"Favorable winds? Is she arriving by sea?"
"Oh dear. Please forget I said that. The less you know about Esme, the better."
At which point our reporter was compelled to depart the premises, having learned all that could be learned about the mysterious Miss Eugenia Fynlock—or whatever the woman's name might be. We can only speculate at this time what sort of person might have a duchess in her debt and be visiting an out of the way corner of England such as Fenwick on Sea let alone be in need of a chaperone.
Dear readers, look for more information on this intriguing tidbit. Our reporter will be writing from Fenwick on Sea and dishing out all the dirt—so to speak—that may be found in such a place.
About Storm & Shelter: When a storm blows off the North Sea and slams into the village of Fenwick on Sea, the villagers prepare for the inevitable: shipwreck, flood, land slips, and stranded travelers. The Queen's Barque Inn quickly fills with the injured, the devious, and the lonely—lords, ladies, and simple folk; spies, pirates, and smugglers all trapped together. Intrigue crackles through the village, and passion lights up the hotel. One storm, eight authors, eight heartwarming novellas.
Buy Links:
Amazon US: https://amzn.to/3kgRmLG
Apple Books: https://apple.co/3lZYHja
Kobo: https://bit.ly/3o0z977
Books2Read: https://books2read.com/u/b5k2pO
International:
Amazon AU: https://amzn.to/2T3PbPh
Angus & Robertson: https://bit.ly/3kabdvH