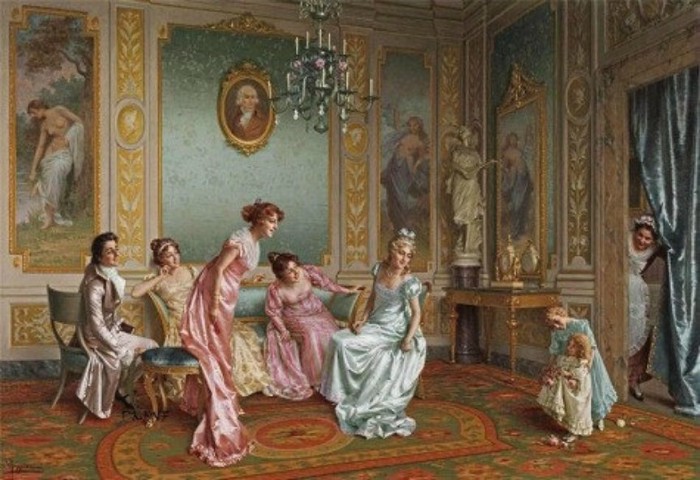 Who is the dowager Countess of Seahaven? It is a question that will be on the lips of many this Season in York.
You may remember that the Earl of Seahaven produced no legitimate sons, despite an effort that almost matched that of the famous Tudor king.  Indeed, some wits dubbed him Henry the Fifth!
Not that the late earl lacked children. Five wives produced ten daughters between them, the last born posthumously to the dowager aforementioned a little more than four years ago..
But what became of the dowager, her daughter, and her nine stepdaughters?
Until today, the Polite World has not been able to answer this question.
However, dear readers, your Teatime Tattler correspondent has been indefatigable in search of the truth, which will be of more interest today than ever, given circumstances.
For Lady Seahaven and her charges are about to burst on the social scene here in York. Your correspondent has learned that the dowager is related to a respected, if eccentric, stalwart of York Society, Lady Rose St Aubyn.
Lady Rose is once again off on her travels, and has arranged for her niece to take over her townhouse.
So we in York are going to be privileged to see the debut of the countess and six of her stepdaughters. (The eldest had a London Season more than a decade ago, but did not take.)
Your correspondent went hunting for more information about the mysterious ladies.
The current Lord Seahaven was unhelpful. All he would tell us was that the ladies did not live in any of his properties, and that the fifth and surviving wife of his predecessor was no lady.
"Her parents were tradespeople, and I will leave it to you to figure out how a female like that enviegled her way into the earl's bed," he said.
Given that the lady is an acknowledged St Aubyn, I think we can ignore the earl's remark. He was, before his unexpected assension to the oak leaves, a minor merchant himself.
However, while we know where the Seahaven ladies will be by the end of March (in Lady Rose's townhouse), we have been unable to discover where they have lived in the four years since the old earl died.
Dear reader, we will watch this York Season with great interest, and will be sure to keep you informed.
Desperate Daughters
The next Bluestocking Belles Collection with Friends is out on May 8th, and tells the story of nine ladies, all related, who discover happiness awaiting them in York in the season.
Now on preorder at only 99c. Price reduction ends with publication. Click on the project page for more information and buy links.