London April 1821
Welcome lords and ladies to a new London Season! It is sure to be an exciting one, as fresh doe-eyed debutantes embark on an untested journey in life. The art of husband hunting! How exciting! Among the arrivals are a pair of wealthy cousins, the ladies J and O St. J. I'm told that lady O has a rather large problem. I'm sure she will not gather the special attention of anyone in particular. She may gain notice for her rather large dowry. There are a number of fortune hunters who would be happy to assist her. At the top of the list is one Baron B, who's finances are in such dire straits that if he does not marry soon, he may find himself in debtors' prison. The list of eligible gentlemen is long and prosperous, one could only hope to snare one. A lady has many options from the boyish blonde-haired Marquess of H, who is possibly the only true bachelor looking for a wife. Perhaps Lady J, who I've heard is full of energy, could catch his eye. Unfortunately, his family's twenty-year scandal doesn't paint him in a favorable light.
The bachelor that every mama will be hoping to attach their eager daughters to, is none other than the Duke of K. known to all as the Bachelor Duke. It has been ten years since he inherited the dukedom, which is one of the wealthiest in England. His estate in Norwich is bountiful, and dare I say, he is one of the handsomest men I've ever had the pleasure to behold. When a lady finally wraps her delicate gloved hand around his arm, she should hold on and never let go. How terribly disappointing.
Last Season our Bachelor Duke found himself pursued by the now Countess of W. There were a select few among us who even thought that the widow Lady E had a chance with him, alas another season went by without our duke even glancing at a lady. Will this Season irrevocably change all of our lives? Will the Bachelor Duke finally marry? I don't particularly see circumstances changing for him, but in matters of the heart one never can be sure.
Word has reached this reporter that the Bachelor Duke has just arrived in town for the Season! I am sure there will be broken hearts from here to Bath. It is an unfortunate truth that he shall never marry.
Whatever happens this Season, it's sure to be a wild carriage ride. I suggest you hold on and watch it all unfold. I know I will.
About the Book
The Bachelor Duke meets a beautiful, curvaceous lady.
Remington Warren, The Duke of Karrington, lives his life by the name society has thrust upon him. Having witnessed cruelty against the fairer sex with his own eyes, he vows never to marry to prevent himself from becoming like the monster who raised him. After ten years of being The Bachelor Duke, his life is irrevocably changed when he sees Lady Olivia St. John across the ballroom floor. 
Having lived a sheltered, pampered life, surrounded by her loving family, Lady Olivia St. John longs to know passion and love. She is beautiful, bold, and has a rather large dowry. According to society, she would be a diamond in the first water of this season if it wasn't for her one flaw.
Will she find all she longs for and more in the arms of The Bachelor Duke, or will heartbreak be her demise?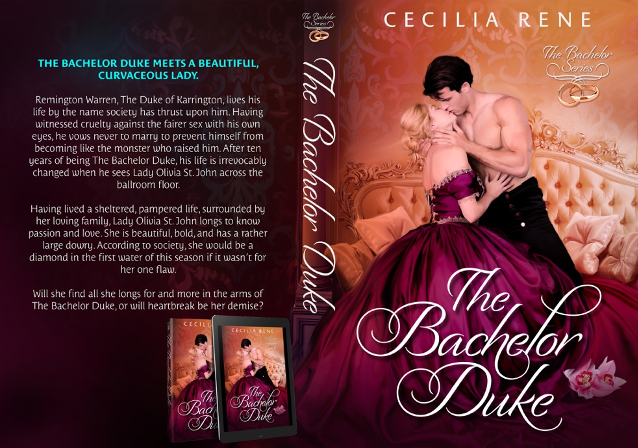 Excerpt from The Bachelor Duke
Remington led Livie into the secluded opera box, drawing the curtain closed behind him. They were utterly alone for the first time. He cupped her cheek and gazed into her eyes. Heat spread throughout her body. Her heart began to beat wildly in her chest. "Livie, I am very sorry you had to be subjected to their gossip." His hand traveled to the nape of her neck, guiding her head back as he leaned down, their lips a whisper apart. Her tongue wet her dry lips in anticipation. "Let me assure you that I find every single inch of you pleasing, and I cannot wait until the day I may call you mine." Remington's lips pressed to hers. His free arm encircled her waist and pulled her closer to him. A groan of pleasure escaped him. Livie was excited, knowing she was the one that caused him to react in such a way. He brushed his lips softly against hers, allowing her time to become accustomed. She relaxed in his arms. Her lips parted, releasing a sigh of contentment. Taking her bottom lip into his own, he sucked gently, before gliding his silky tongue along it. Livie whimpered, the pure ecstasy of his lips touching hers was a feeling she had never felt in her life. His hand spread wide on her lower back branding her through the fabric of her dress. "Remington," she sighed against his lips, hearing voices all around them. She wanted to stop the madness with all of society just on the other side of the curtain. But she could only grasp his lapels and hold on tight as she opened to him, allowing him the freedom to devour her. Time stood still while they kissed for what seemed like forever, their lips unable to part, even for something as basic as breathing. The dull sound of voices all around her was drowned out by the rushed beat of her heart. Remington trailed kisses down her neck, and she tilted her head back, gasping for sweet air while new sensations traveled down to the apex of her thighs. "Livie, my God, Livie," he groaned out before he covered her mouth again with his.
About the Author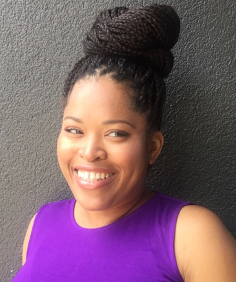 Cecilia Rene is a creative, happy, and outgoing Detroit native who majored in Broadcast Communication at Grambling State University. Immediately following her graduation, she started her new life in New York City. As a self-proclaimed New Yorker, her stimulating and diverse career in advertising sparked a drive for hard work and dedication. Her love and passion for writing followed her from childhood through adulthood, where she wrote short stories, poems, and screenplays. Always an avid reader, she stumbled across a book that ignited a deeper need for more and joined a fandom of like-minded individuals. Cecilia and her family made a huge move five years ago to the great state of Texas, where she currently lives with her loving husband, wonderful son, and spoiled fur baby, Sadie. Cecilia Rene loves romance, humor, and all things spicy. For this reason, she will always give you a Happily Ever After.
Follow Cecilia Rene:
☆Website: https://bit.ly/3krehUG
☆Instagram:https://bit.ly/30DWh1S
☆Facebook: https://bit.ly/3ihR8lV
☆Twitter: https://bit.ly/30Dl71N
☆Goodreads: https://bit.ly/3gCuyny
☆Newsletter: https://bit.ly/3ieZwCw
☆bookbub: https://bit.ly/3bERf8Y