Three years after The Bachelor Duke was taken off the market
London 1824
Here we are again! Another exciting Season! Every year, eager debutants and reluctant gentlemen come together with one common goal. Marriage! Or perhaps other pursuits. Ladies that are new to the London Season shan't fret over the possibility of finding a suitable husband. The numerous success stories of our past are an inspiration to all mothers and daughters.
The most successful love story of the last three seasons is that of the former Lady O and The Bachelor Duke, although now that name has been long gone for years. When Lady O arrived with her exuberant cousin, Lady J, she was all anyone could speak of … and not in a good way. There were those who believed that she was too plump, too round in the hips to win such a man as the Duke of K, but she soon proved everyone wrong! I, for one, never doubted her for a second!
It's been three years since the marriage of the century and the heart. The now Duchess of K has become a bit of a celebrity throughout society. Especially after the ordeal she survived after her first season. Oh, the horror!
In spite of the exciting first Season, Her Grace has excelled in every endeavor that has been presented to her. A kindhearted philanthropist, she often contributes to the poor, both in London, and on their country estate in Norwich. Whatever endeavor she tackles next, it is sure to be a great one, now if only her cousin, Lady J, could repair her ruined reputation!
Let's hope that now that a new Season has begun, Lady J finds what she lost three years past, but I'm sure opportunity like the one she had will not come around again. Rumor has it a new bachelor will soon be arriving in town.
Let the fun begin!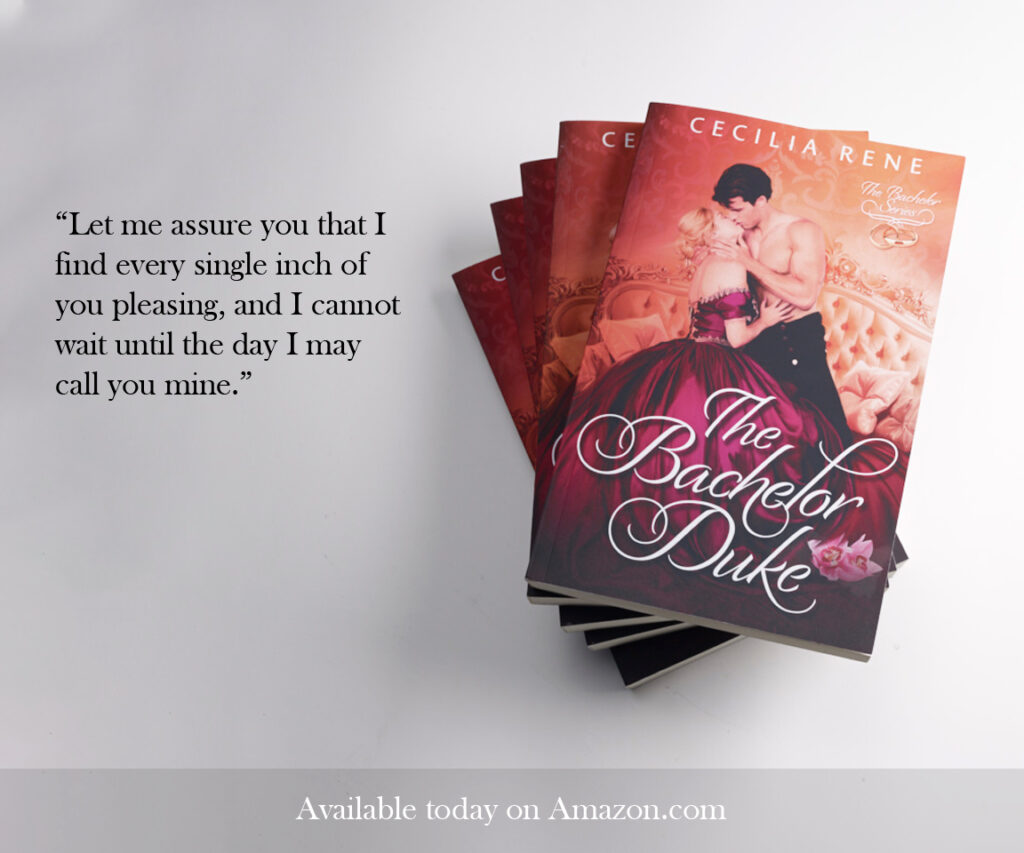 Amazon US: https://amzn.to/3a5umLb
Excerpt from The Bachelor Duke:
"Let me assure you that I find every single inch of you pleasing, and I cannot wait until the day I may call you mine." Remington's lips pressed to hers. His free arm encircled her waist and pulled her closer to him. A groan of pleasure escaped him. Livie was excited, knowing she was the one that caused him to react in such a way. He brushed his lips softly against hers, allowing her time to become accustomed. She relaxed in his arms. Her lips parted, releasing a sigh of contentment. Taking her bottom lip into his own, he sucked gently, before gliding his silky tongue along it. Livie whimpered, the pure ecstasy of his lips touching hers was a feeling she had never felt in her life. His hand spread wide on her lower back branding her through the fabric of her dress. "Remington," she sighed against his lips, hearing voices all around them. She wanted to stop the madness with all of society just on the other side of the curtain. But she could only grasp his lapels and hold on tight as she opened to him, allowing him the freedom to devour her.
About the Author
Cecilia Rene is a creative, happy, and outgoing Detroit native who majored in Broadcast Communication at Grambling State University. Immediately following her graduation, she started her new life in New York City. As a self-proclaimed New Yorker, her stimulating and diverse career in advertising sparked a drive for hard work and dedication. Her love and passion for writing followed her from childhood through adulthood, where she wrote short stories, poems, and screenplays. Always an avid reader, she stumbled across a book that ignited a deeper need for more and joined a fandom of like-minded individuals. Cecilia and her family made a huge move five years ago to the great state of Texas, where she currently lives with her loving husband, wonderful son, and spoiled fur baby, Sadie. Cecilia Rene loves romance, humor, and all things spicy. For this reason, she will always give you a Happily Ever After.
Follow Cecilia Rene:
☆Website: https://bit.ly/3krehUG
☆Instagram:https://bit.ly/30DWh1S
☆Facebook: https://bit.ly/3ihR8lV
☆Twitter: https://bit.ly/30Dl71N
☆Goodreads: https://bit.ly/3gCuyny
☆Newsletter: https://bit.ly/3ieZwCw
☆bookbub: https://bit.ly/3bERf8Y