Dearest Readers,
The Tattler has received the most shocking news about two of society's newest Duchesses. Everyone recalls the scandals that nearly brought down the Duchess of Stonegreave before her marriage to heroic Captain Richard Campion. Now it seems that Her Grace of Stongreave is not the only duchess with a murky past.
We have recently learned that Viscountess Cairndow may not be an ideal candidate for Duchess of Cowal. Despite her recent nuptials with Cairndow, Cowal's heir, rumors continue to swirl that her ladyship was a base-born commoner raised by an Irish pirate. When that dubious parent passed away, our sources claim that the former Esmeralda Crobbin took over as captain of his ship. She would have been a solitary female, alone at sea with a crew of close to 100 men. No woman in such circumstances could lay any claim to virtue or honesty. Given the naïve innocent recently presented to society as Viscount Cairndow's supposedly beloved bride, it is nearly beyond belief that the Viscountess's rumored past is true.
Yet stranger things have happened.
Take, for example, Lady Cairndow's reported finishing school compatriot, the former Miss Celestine St. Cyr-Duval,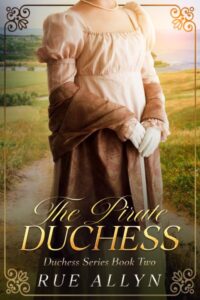 who is now Duchess of Margris.
The Duke of Margris recently shocked society when he returned to London after an absence of several months with an American Bride. And not just any bride, Her Grace is reported to be the natural child of a decades long union between a Louisiana sugar magnate and a mulatress who resided in St. Domingue until the revolutions there in last years of the previous century. Eventually this woman made her way to New Orleans. Her daughter by that same sugar magnate, born in St. Domingue and convent schooled in Jamaica, is now Duchess of Margris. Natural children of relationships such as that between Her Grace of Margris's mother and the planter are not unusual. Several respected members of the ton have similar origins.
What is unusual, even scandalous, is our newest duchess's reported activities in Louisiana before her marriage. Our most reliable sources state that Her Grace was personally involved in aiding in the escape of a dozen or more slaves. A noble effort, we are certain. However, the lady was only able to bring about these escapes because of her friendships with a number of pirates. One of them was the aforementioned Esmeralda Crobbin, a friendship formed at the convent school. Another was the pirate Lucien Flynn, whose flagrant affairs with a number of women have been reported widely in the London press.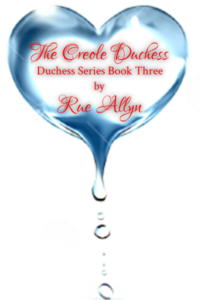 Flynn, a romantic figure of dubious character, is rumored to have some connection with Margris's family. Our source was unable to confirm any connection at the time of this report. But if such a relationship were true, is it possible that the gentlemen shared the current Duchess of Margris's favors before whatever events might have forced a wedding with the duke? Only Margris's pristine reputation stands as denial to such a rumor. His Grace is known to never have indulged in any affair in the ton or the demi-monde. He has throughout his life been tireless in his support and defense of Britain and the Crown. Only the Haverford family rivals Margris's charitable efforts. And he and His Grace of Haverford have successfully sponsored several legislative reforms. Our country is a better place because of such men.
How is it possible that men of such good repute as Cowal's heir and Margris wed so far beneath them? Are the rumors about their wives nothing but the gossip of jealous ladies who were not chosen as ducal brides? It is impossible to tell. Some evidence exists that the rumors might have an origin in truth. However, the evidence is inconclusive. We and the rest of the ton must suspend judgement until the stories surrounding these two now powerful women are either confirmed or debunked completely. Rest assured the Tattler will continue to investigate on your behalf.
About Rue Allyn's Duchess Series: Three of England's most powerful women have pasts riddled with scandal. Learn how each overcomes adversity to find love with three of England's most heroic men.
About The French Duchess:  To save the man she loves she will sacrifice everything family, friends, honor . . . even her life
In the past, when Marielle Petersham gave her heart to a man he died. Then a small indiscretion destroys her reputation and her chance at true love. Next the British government sends a former beau to investigate her connections with France, Thus, she's torn between fury and longing for a man she should not love.
Captain Richard Campion desired her once, but she rejected him. He dare not trust her with his love a second time. Convinced she is plotting a royal assassination, he must see her hang for treason, even if it breaks his heart again.
Will he learn the truth before it's too late, or will betrayal see them both dead? The French Duchess is a non-stop, high stakes historical romance adventure. Get your copy today.
Available Now!: Only at Amazon's KU
About The Pirate Duchess: They met during a brawl.
Esmeralda Crobbin first encounters Brandon Gilroy during a brawl. Once their opponents are vanquished, she admires the man's skill with his fists, his intelligence, and a number of other attributes until she learns that he is a British Naval Officer. He would be eager to see her hang, if he knew she was the American privateer, Irish Red.
Can sworn enemies become lovers? Find out. Get your copy of The Pirate Duchess today.
Available at Amazon and other fine retailers.
Blurb:  They met during a brawl!
About The Creole Duchess: A duke in disguise, a creole miss determined to get her own way, and two nations at war, is love even possible?
New Orleans Creole, Miss Celestine St. Cyr-Duval refuses to live under the thumb of some man chosen by her parents. Celie will do everything to gain the ability to make her own way and determine her own fate. But fate interferes in the form of a duke disguised as British businessman, Caleb Alden. A relationship with Caleb would find approval with Celie's mother, but both Celie and Caleb have secrets that put them on opposite sides of a great conflict and could destroy them both.
With the Battle of New Orleans looming, can these two natural enemies compromise and protect each other, or will fear and betrayal end both their lives.
Available for pre-order only: https://books2read.com/u/49vEL8
About Rue Allyn: Author of historical and contemporary romances, Rue Allyn fell in love with happily ever after the day she heard her first story. (She claims she was a precocious little brat who read at the age of two but could hear much earlier than that.) She studied literature for far too many years before discovering that writing stories was much more fun than writing about them. One of her greatest pleasures as an author is being able to read the story before anyone else. Rue is happily married to her sweetheart of many, many years. Insatiably curious, an avid reader and traveler, she loves to hear from readers about their favorite books and real-life adventures. Crazy Cat stories are especially welcome. You can contact her at Rue@RueAllyn.com. She can't wait to hear from you.
Find Rue at:   Website   Facebook   Amazon   Goodreads