Dear Reader,
This correspondent gleefully shares the news with you the news that Sir James Branstoke and his new bride, Lady Cecilia Branstoke are not on their honeymoon in the Highlands as they would have all believe. No, no, quite the contrary. They were recently spotted at the theater in the company of Lady Elinor Aldrich.
There was no sign of Baron Simon Aldrich, and Lady Aldrich wore black. Though this correspondent has not heard of any official announcement, it is rumored Baron Simon Aldrich has lamentably met his death in a carriage accident along the White Cliffs of Dover.
Sir James and Lady B. don't believe it.
We shall do our best to ascertain the truth.
About the Book: Rarer Than Gold, Book 2 of "A Chance Inquiry"
When newlyweds Sir James and Lady Cecilia Branstoke come to console a widow on the death of her husband, they discover some things don't add up about the death of the young Lord. Worse, a man who won't state his purpose, but is obviously military, wants a carte blanche to search the dead man's library! The sheer effrontery!
What begins as sympathy and concern for a troubled neighbor escalates into a mystery with reverberations at the highest level of government.
Napoleon has escaped from Elba and someone has stolen a subsidy shipment meant for England's allies in their renewed war against Napoleon. The shipment, a valuable mix of gold and guns, soon pits thief against thief and ally against ally with the Branstokes in the middle!
Instead of being on a blissful honeymoon, Sir James and Lady Cecilia Branstoke find themselves dodging knives, fires, and pistols as they search for the missing baronet and the stolen subsidies.
Maybe they should have traveled to the highlands for their honeymoon, as they'd told their friends had been their intention.
~ An Excerpt ~
"The ground is uneven here. It might be best if you stayed here while I search the area," James suggested.
"No, I will accompany you. Two pairs of eyes. I shall be steady enough. If not, I shall just grab tightly on to you," Cecilia said.
"And I should enjoy that," her husband teased. "But be careful. There are fallen stones lying at odd angles that you could sprain an ankle on if you were to step oddly."
"Yes, I can see that."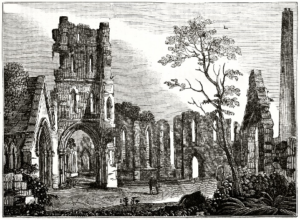 They picked their way through the path of fallen stones toward the nave, wide open to the sky above with patches of blue and lavender and yellow wildflowers growing among the tall grasses shadowing the rocks.
"It is so beautiful and peaceful here," Cecilia murmured. "Spiritual, though the church is long gone."
"But not so spiritual that evil stays away," James said grimly. He left Cecilia's side to walk to a pile of stones beside a half-standing wall. He bent down to pick something up, then pushed the grass away from the rocks.
"What is it, James?" Cecilia asked as she hurried toward him.
He held out a lady's glove.
"That's Elinor's!" Cecilia said.
He gestured back to the rocks. "There is evidence of blood on the rocks here. Not a lot, but it doesn't show evidence of rain or time dilution, either. It is recent."
Cecilia examined the rocks with their blood spatters. Then she looked around at the grass in the surrounding area. She found a few white threads as might come from ripped fabric. She pointed these out to James.
James looked beyond the rocks. "There is a trail," he said, pointing to the trampled grasses leading to the back of the nave.
"It looks like whoever someone injured leaned against the wall here. There is a large smear of blood. By the location of the blood, I would guess it is from an arm or shoulder wound," James said.
"Look, there is a bloody handprint." Cecilia pointed to a partial handprint.
"A man's hand."
"Yes," she agreed. "It appears Elinor bandaged whoever was injured, and then they left. I wonder if we can find traces of the direction they took?"
James glanced at the sky. "The clouds are building. We must hurry if we are to discover any signs of their direction before the weather changes and rain wipes all traces away."
Buy Link: https://www.amazon.com/Rarer-Than-Gold-Chance-Inquiry-ebook/dp/B096WLGYK8
About the Author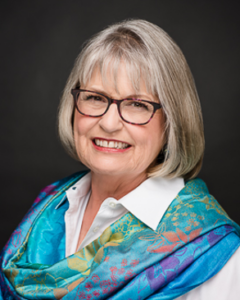 Holly Newman lives in Florida seven miles from the Gulf Coast with Ken and their six cats.
Holly decided to be a writer when she was in the fifth grade and filled notebooks with stories—until a mean-spirited high school teacher told her she had no talent for writing. Crushed, for several years she stopped writing, but the writing bug didn't go away. Her first book won first place in the University of Texas at Dallas fiction writing competition and was first runner-up for the Rita award from Romance Writers of America.
Holly's interest in the Regency period started in high school when she volunteered to re-shelve books at the community library. Every week there were Georgette Heyer novels to be shelved. Curious, she checked one out and became immersed in the world of the regency.
Website: Holly Newman | History, Mystery, Humor, and Romance . . . 19th Century Style
Facebook:  https://www.facebook.com/HollyNewmanAuthor
Instagram: @hollynewman1811
Twitter: https://twitter.com/author_holly
Newsletter: Click on Perchance to Dream, to get a Georgian era fantasy short story for free with a newsletter sign-up