To Reverend Mr. Horace Sorsby, Vicar of Saint John the Evangelist Parish, Knaresborough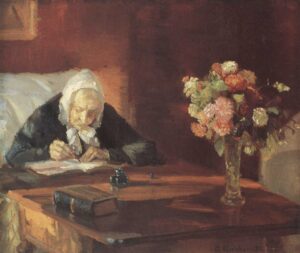 Sir:
Reluctant though I am to criticize church matters, I truly must speak up, and hope my frequent liberal contributions to your parish will gain me attention. As you know age and infirmity make it impossible for me to attend services in Knaresborough. While I am pleased that a chapel of ease has been set up here in Harrogate for the benefit of leading citizens like myself who find themselves hampered from full participation, the man assigned  it has failed us. I am compelled to report that the curate you appointed to serve my our needs has proven to be negligent and useless.
First of all, his sermons focus entirely too heavily on service due the poor, in my opinion, and too little on the respect the lower classes owe their betters. I suppose I must excuse this as he is young and does seem to have a grasp on scripture.
I excuse it mainly because I am rarely able to attend even the chapel of ease here. That curate, Mr. Eustace Clarke, has been repeatedly asked to attend me at home. We are now moving into December, and I am obliged to report he made but two visits since summer. Neither visit lasted longer than an hour. I ask, Mr. Sorsby, do you believe that shows sufficient care for a frail old woman, one I might add who has generously supported Saint John in the past?
I am quite, quite distressed to add that my precious Wellington, an extraordinarily noble pug, has taken him dislike as well. The impudent young man accused my darling Welly of damaging his boots. I cannot believe poor Welly has developed a taste for leather. He has demonstrated no such affinity in the past. I am certain Mr. Clarke enticed him as an excuse to make a quick departure.
My loyal butler reports that it appears Mr. Clarke persists in wasting his time with that pathetic little soup kitchen he calls Pilgrim's Rest, feeding every lazy, worthless beggar that imbibes from Harrogate's public springs but refuses to pay for his lunch. Now news has reached me that he believes he needs funds to repair the roof of that barn. I will not stand for it. I demand you order him to close that fruitless and unproductive little mission down and focus on those of us who support the parish at large as he ought.
If my words have not been enough to convince you the man needs sharp words from his superior there is this. My personal maid, a woman of fine character, has told me that he is now seen walking out with a woman employed in the kitchens of the The Hampton Hotel. What such a woman is doing sporting about town on the arm of a single man, I can only guess. The hussy's name I'm told is Doro Bigglesworth.
I trust you will counsel your curate about proper behavior and duties. I would hate to take my contributions and charity elsewhere.
With Respect,
Lady Louella Spotsworthy
About the Book: Desperate Daughters
Love Against the Odds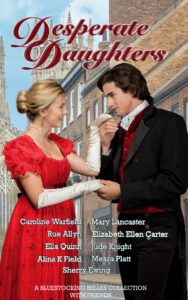 The Earl of Seahaven desperately wanted a son and heir but died leaving nine daughters and a fifth wife. Cruelly turned out by the new earl, they live hand-to-mouth in a small cottage.
The young dowager Countess's one regret is that she cannot give Seahaven's dear girls a chance at happiness.
When a cousin offers the use of her townhouse in York during the season, the Countess rallies her stepdaughters.
They will pool their resources so that the youngest marriageable daughters might make successful matches, thereby saving them all.
So start their adventures in York, amid a whirl of balls, lectures, and al fresco picnics. Is it possible each of them might find love by the time the York horse races bring the season to a close.
Among them?  "Lady Dorothea's Curate," by Caroline Warfield
Employed at a hotel in order to assist her stepmother, Lady Dorothea Bigglesworth had no use for a title. It would only invite scorn, or, worse, pity. Plain Miss Doro Bigglesworth suited her fine.
Ben Clarke dedicated his life to helping the neediest. It gave his life meaning. He tended to forget the younger son of a viscount went by "Honorable."
Working together at Pilgrim's Rest, neither saw the need to mention it to the other, before fate separated them. When they were formally introduced after an unexpected reunion— in a ballroom in York—shock rocked them both. Can their budding love survive?
You can find links to various vendors here: https://bluestockingbelles.net/belles-joint-projects/desperate-daughters/