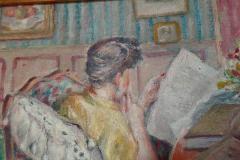 "Lorena, my dear, you'll never believe what I just read in this morning's issue of The Teatime Tattler!"
"That old rag? Sister dear, I've told you time and time again that Mr. Clemens's newspaper is nothing but a scandal sheet. I don't know why it is you waste your pocket money on such rubbish."
Lavinia Forrester rolled her eyes. "Rubbish it may be, dear sister, but I'm quite certain there is something here you would find of considerable interest."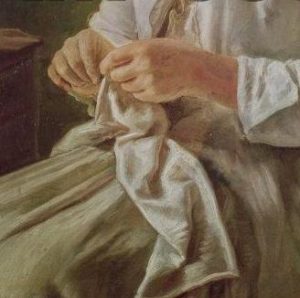 Lorena Clapham put down her sewing and gave her sister a glassy stare. "I am equally certain there is nothing there that I care to hear, Lavinia. Do put it down before the servants see you reading it."
"The Tattler has it on good authority that Miss Cornelia Hardcastle, daughter of Admiral and Mrs. Cornelius Hardcastle was married on Friday last to Mr. Preston Warrington, brother of William, Viscount Warrington, of Cheshire." She paused in order to witness her sister's reaction.
She wasn't disappointed. Lorena's head jerked back and her sewing clattered to the floor. "Miss Hardcastle, you say? But that can't be true!"
"After a seaside honeymoon at Brighton, the newlyweds will return to London to take up residence at the Hardcastle home on Leicester Square, which will soon be vacated when the Admiral and his wife sail for Canada where he will take up the post of Governor General of British North America."
Lorena snatched the newspaper out of her sister's hands and continued reading, her fury giving her words an angry intensity.
"Our confidential correspondent claims that this is the latest of a long line of successful matches coordinated by Sir Stirling James, popularly styled "The Inverness Marriage Maker" whose own marriage to a duke's daughter was the result of one of his most challenging schemes. One has to wonder from whence this particular power emanates and how far it can be taken. It is the opinion of this writer that there will soon be an exodus of carriages of desperate parents taking to the Great North Road to avail themselves of Sir Stirling's skills for their recalcitrant sons and daughters."
"Miss Hardcastle swore to my son she would never, ever marry. She broke his heart and he's never been the same since!"
It's not her fault she didn't return his affection. And who can blame her? He's always been such a nitwit. 
"Perhaps now he'll look for another young lady."  Not a chance. A wife would interfere with his drinking, gaming, and whoring.
Lorena dropped the newspaper on the table, a faraway look in her eyes. "A marriage maker, eh? You don't suppose…"
Lavinia's eyes widened. "Surely you don't intend to engage the Inverness Marriage Maker? Why, you don't even know him—and he's in Scotland."
Her sister shrugged. "He must travel to London on occasion. How else did he manage to induce Miss Hardcastle into marriage when she has sworn against it? I daresay he won't have half so much trouble with my darling Robin. Oh Sister, he will be ever so much more steady with a sensible wife."
Lavinia groaned. Poor Sir Stirling. After this seemingly innocent piece in The Tattler, she suspected he was going to be inundated with mail from desperate parents all over the British Isles.
The Marriage Maker Goes Undercover
Fall 2017
Lady Elana Gallaway, known as master spy The Raven, has made a career of navigating enemy territory and risking her life in situations and places no gentlewoman should know exist. She possesses all the social graces, and is adept at sweeping into glittering royal courts on the Continent, then vanishing without a trace after she's ferreted out the treacherous secrets that drew her there in the name of duty. She's equally accomplished in London and Edinburgh, or wherever the British King requires her service. But never has a mission struck so close to her heart—or proved so daunting—as finding love for four retired spies.
These operatives have helped her many times, once or twice, even saving her from certain death at risk to their own lives. 
Now, they live solitary lives, lonely lives while surrounded by throngs. Luckily, Elana hasn't forgotten them. Her career has introduced her to more than enemies. Among her close friends is Sir Stirling James, the famous Inverness marriage maker. He's just the man she needs.
The Marriage Obligation by Susana Ellis
Cornelia Hardcastle has been determined never to marry since she was eighteen and discovered an ugly family secret. Now that she's twenty-four, however, her parents want to see her settled so they can move to Canada for her father's prestigious new government post. Not a chance!
The second son of a viscount, Preston Warrington is more than happy to leave the viscount business to his brother so he can travel the world in search of adventure. His recent stint as a spy for the British in the War with the French has come to an end, and he's getting pressured to marry and settle down. Hell no!
How could the notorious Marriage Maker from Inverness all the way in Scotland possibly know that these two marriage-averse individuals are perfect for each other?
Inquiring minds want to know.