Dear Readers,
The Teatime Tattler is delighted to share this note of thanks from those mavens of marvelous stories, The Bluestocking Belles. We like to think of ourselves as purveyors of  discreet truth and vital news for those who wish to be au courant of England's noble society. We return our thanks in kind to these seven ladies of the pen and pray they will continue to provide wholesome and loving entertainment for years to come. Their letter is copied below along with an image of the bouquet of yellow 'friendship' roses (pictured to the right) that accompanied the letter.
Mr. S. Clemmens, Editor
—————————–
Dear Mr. Clemens,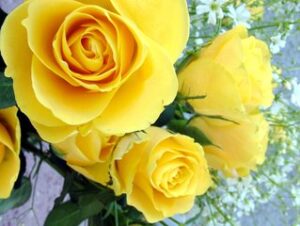 I write on behalf of The Bluestocking Belles who are this day, March twelfth, celebrating seven years of writing and publishing collections of our novellas. We wish to thank you for your continued and unbiased support of our group and our publications. We know that not all of your readers love or even like our work or that we are seven gently bred women who have dared to follow the lead of Miss J.A. and successfully write, publish, and sell–to some small acclaim. Yet despite the expressed displeasure of some of your readers (none of whom have, as I understand it, dropped their subscriptions), you continue to report on our successes and failures–this last much to our embarrassment we acknowledge to be true–without any bias positive or negative whatsoever. What author, what person could ask for more from London's most popular and highly regarded scandal sheet. It has been our pleasure to meet you in person once or twice. Your discretion and truthfulness in reporting are most sincerely appreciated.
With kind regards,
Lady RA and the Bluestocking Belles
PS: In honor of our celebration we are placing all of our collections on sale until March 17th. Your readers may find them here https://bluestockingbelles.net/belles-joint-projects/
Available for Pre-order NOW: Desperate Daughters:  A Bluestocking Belles with Friends Collection

The Belles are also happy to share that their newest collection will be released on May 17th this year. The collection is now available for pre-order at the very low price of $0.99. The price goes up after release.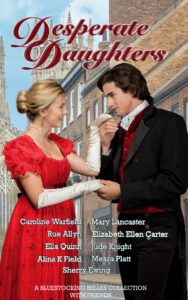 Love Against the Odds
The Earl of Seahaven desperately wanted a son and heir but died leaving nine daughters and a fifth wife. Cruelly turned out by the new earl, they live hand-to-mouth in a small cottage.
The young dowager Countess's one regret is that she cannot give Seahaven's dear girls a chance at happiness.
When a cousin offers the use of her townhouse in York during the season, the Countess rallies her stepdaughters.
They will pool their resources so that the youngest marriageable daughters might make successful matches, thereby saving them all.
So start their adventures in York, amid a whirl of balls, lectures, and al fresco picnics. Is it possible each of them might find love by the time the York horse races bring the season to a close?
Buy Links:
Amazon US: https://amzn.to/3qG6WGs
Apple Books: https://apple.co/3HoEVcm
Barnes & Noble: https://bit.ly/2YOhqIm
Kobo: https://bit.ly/3qL5GlH
Google Play: https://play.google.com/store/books/details/Caroline_Warfield_Desperate_Daughters_A_Bluestocki?id=Ok9gEAAAQBAJ
Books2Read: https://books2read.com/u/bMwL17
International Links:
Amazon AU: https://amzn.to/3ng3cth
BR: https://amzn.to/3qUFBkf
CA: https://amzn.to/3Fmf0Ab
DE: https://amzn.to/3ccXYrJ
ES: https://amzn.to/3wQPO1H
FR: https://amzn.to/30sHrgY
IN: https://amzn.to/3261J0v
IT: https://amzn.to/3Chmqmv
JP: https://amzn.to/3ozIpA6
MX: https://amzn.to/3FknEzq
NL: https://amzn.to/3qBPF1f
UK: https://amzn.to/30z5vz5
Angus & Robertson:
Thalia: https://bit.ly/30q8dqI
Vivlio: https://bit.ly/3qGqxqc