Number 50, Dudley Crescent, London
July 15, 1821
Dearest Lucinda,
I write to you today to share my outrage at occurrences in Dudley Crescent. I simply cannot abide the recent changes and must have your advice.
Two years ago, a murder occurred at Number 10. The horrid matter was quickly resolved when the culprit was identified and put away from fine society. But the greater scandal was that the widowed lady of the house had intimate relations with her butler! Then last year, a noted member of society hired a young woman as ward to his child…and later, did marry the woman! She was far below his station, though, I do understand, an heiress of considerable worth. I must tell you the man is one of our finest gentlemen with a spotless reputation and high military honors. Yet, I worry.
Another event occurring last week causes me to question my presence here!
I understand that one noble gentleman has paid attentions to one of his servants! This time, said woman is not a governess. No, indeed, she is his maid-of-all-work! Can you imagine? I've been inconsolable, riddled with a nervous stomach and headaches. My usual little dose of laudanum is simply not enough to calm me.
This causes me to ask you if you think I should move to a better part of town. Is there a curse on the Crescent? Must I expect more servants who will climb above their station to enthrall their masters or mistresses? Worse, will such an affliction affect my own house? I must tell you, quite confidentially, that my only daughter, Lady Mary, seems far too taken with one of our own servants. The new…dear me, I can barely write this…stable boy. Yes! He is most definitely not a boy. Not by any means. He is thirty years of age or more. Tall, taller than my dear departed husband. And devilishly handsome with hair the color of coal and eyes like lavender. He is quite ethereal.
I do rattle on!
Advise me, please!
Most sincerely,
Catherine, the Viscountess of Trelawny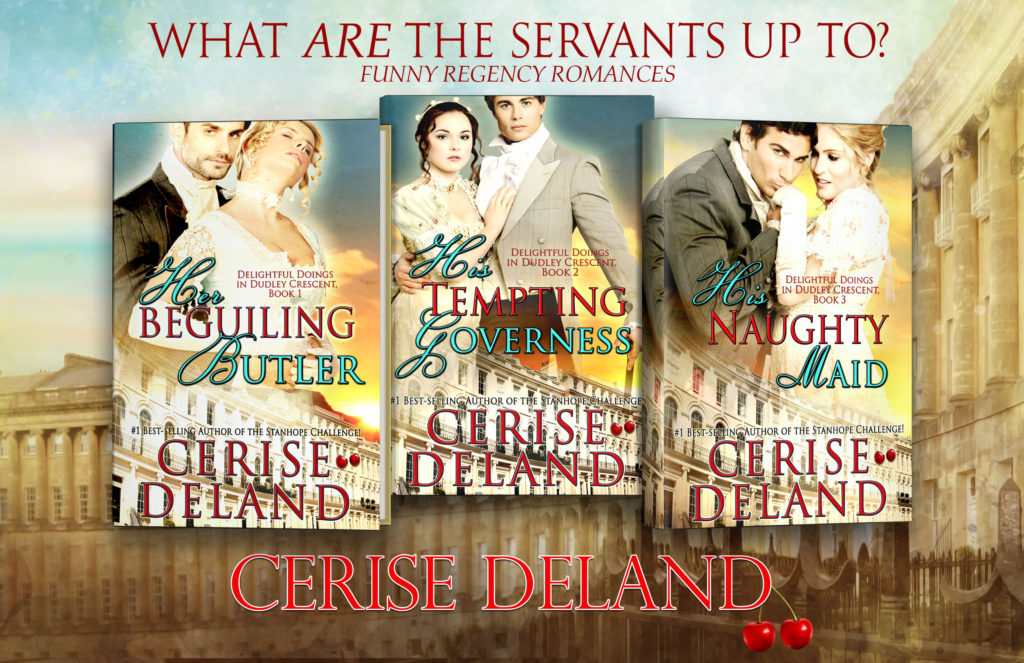 Dudley Crescent is a verdant parcel of land in London, granted by King Charles II to the Earl of Dudley who was one of his staunchest supporters. With gold he'd stolen as a highwayman during Charles's exile on the Continent, Dudley put his ill-gotten gains to good use and built the finest town homes in the capital. Renting the land in perpetuity to certain Royalist friends quadrupled his fortune.
Today, those who have townhomes surrounding the verdant park are a few of the wealthiest and most influential lords and ladies in the kingdom. But scandals abound on Dudley Crescent. You can find them here:
https://www.amazon.com/Cerise-DeLand/e/B0089DS2N2/
Or here: http://cerisedeland.com/delightful-doings-in-dudley-crescent/