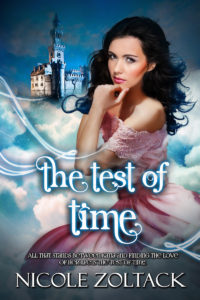 THE TEST OF TIME
Katia jumps at the chance to go to England with her best friend after Rose ditches her deadbeat boyfriend. While walking through the market, she spies a large mansion and recognizes the guy out front as her high school friend Tony. Just as they start to reconnect, Katia passes through times and lands in the arms of Lord Landon, who looks like Tony but certainly doesn't act like him.
Soon, Katia learns that this 1815 is different from the one in history books. Trapped in a parallel world, Katia struggles to not fall for Landon but his charm proves too much for her. Just when she is about to confess her love for him, Katia travels through time yet again.
The course of love never did run smooth and if Katia can't figure out and master the test of time, she'll never see her friends again, or worse, never be reunited with Landon.
LOVE BEFORE HONOR
To avenge his love's death, Sir Gerald challenges her murderer to a duel. Her twin, however, feels that Alice never loved the knight and gives him a tea that sends him to into the future, to the Regency era.
Lady Vanessa seeks a Christmas treat when she hears something outside the manor. Upon investigation, she sees a man dressed in armor. Unwilling to turn away a confused man with the approaching holiday, she convinces her parents to house Gerald until the new year.
Scandal has forced her parents to accept William as their daughter's best chance at marriage. Although rich, he does not understand her or her love of books, whereas Gerald listens to her, confides in her and she him. With the approaching holiday, nothing is certain – not whether Gerald can discover a way back to his duel, whether he can move on from Alice, and not whether this Christmas will be a happy one for either Gerald or Vanessa.
MASKED LOVE, BEYOND BOUNDARIES #1
Isabelle will do anything for her lady, even accompany her to a masquerade ball. Lady Theodosia needs extra support for tomorrow she will meet the man her par-ents have pledged her to.
Meeting an enchanting young man during the course of the evening makes Isabelle wish for a life she can never have. Imagine her shock when he shows up the next morning, announcing his claim on Lady Thedosia.
Torn between duty and desire, Isabelle hopes for something more this Christmas.
STARRY LOVE, BEYOND BOUNDARIES #2
With the Season rapidly approaching, Lady Elizabeth is ready to make her match until her father is stricken deathly ill. Her mother is desperate and hails for doctors, surgeons, even apothecaries. The upkeep of the house falls on Elizabeth, and she spend long hours beside her father, watching as he betters one day and fares worse on others. Long walks with the stable hand Callum on starry nights save Elizabeth's sanity.
When the inevitable happens, Lady Elizabeth is forced to go to London. The gentlemen there, however, hold no candle to the kind and caring Scottish Callum.
Shortly before her father's death, Callum returned to his homeland to try and find a cure for her father. As time passes with no word, no letters, Elizabeth must choose whether the love that blossomed between them is worth denying the man her mother wishes for her.
JOY TO THE WORLD
Unbeknownst to Eliza Berkeley, the second daughter of a baron, the man she thought she was going to marry was not Stephen Huntington, the Duke of Wyndale. Thankfully, the reprobate does not appear for the wedding. The true duke arrives instead. Will a match formed originally through deceit blossom into love this Christmas? Or will the imposter ensure neither experiences happiness ever again?
Joy to the World originally appeared in the Bluestocking Belles' Mistletoe, Marriage, & Mayhem box set.